Dutch wind farm in Murmansk The Dutch company Windlife Energy BV is to install a 200 megawatt wind farm near the Russian town of Murmansk. Due to the warm gulfstream and the cold polar landmass hte wind regime is exceptional with speeds of +9,5 m/s
As part of its energy policy, the Russian government has given priority to new energy sources. It is making grants available for the production of green energy. It is expected that as of last year wholesale prices for energy will equal or even surpass European prices.

Windlife Energy has signed a protocol with the Murmansk district authorities, which grants the company land rights and building permits to install the first phase of the wind farm. The protocol was signed last week by the governor of Murmansk, Yuri A. Evdokimov, and Paul Logchies, the managing director and founder of Windlife Energy. In accordance with Russian protocol, camera crews were present at the ceremony and national flags were on prominent display.
According to the terms of the protocol, the Murmansk authorities will cooperate in the construction of a wind farm between Teriberka and Tummani, two smaller towns about 150 km east of the city of Murmansk (population approx. 335,000). Here too, Gazprom is currently constructing a major processing facility for the gas that is extracted in the region. While the initial phase of the wind farm involves a capacity of 200 megawatts Windlife Energy has obtained an option to expand it still further, up to a maximum of 2,000 megawatts.
Together with the representatives of various Russian government bodies, the Dutch company is involved in a working group which is preparing the way for this project. In June 2009, work will start on the foundations, making it possible for the first wind turbines to be installed in 2010. According to the planning, the first phase of the wind farm should be operational by the end of 2011.
Windlife Energy is still assessing various types of wind turbine to find one that performs well in the severe weather conditions pertaining in the Arctic Circle. As these machines will be exposed to average wind speeds of 9.5 metres/second, the company is limiting its selection procedure to tried and tested types. To address these and other technical issues, Windlife has engaged the services of Ecofys, a Dutch wind engineering company, a sustainable energy consultancy.
Managing director Paul Logchies points out that "The conditions at this onshore site are comparable to those encountered at offshore wind farms in the North Sea. The onshore installation costs are only about 40% of those for offshore turbines. This consideration, together with the Russian government's grants policy, makes this a very attractive investment for us." Various banks and institutional investors have already shown interest in the project.
Featured Product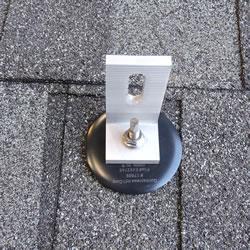 The QuickBOLT is THE affordable mounting solution for Asphalt Shingle Roofs. Not only is it the lowest cost system in the industry, it also maintains the fastest install time of any mounting system available. Unlike other Asphalt Mounting systems that require bulky flashing, the QuickBOLT uses a small EPDM washer and is 100% waterproof! Part # QBKit2