United States consumes four times the level of renewable energies as Canada.
Consumption of non-hydro renewables in Canada was 1% of the country's total energy in 2005, according to latest data from the U.S. Energy Information Administration.

Canada consumed 14.3 quadrillion Btu, of which oil was 33%, natural gas 25%, hydroelectricity 25%, coal 9%, nuclear 7% and 'other renewables' was 1% (includes solar, wind, tidal, geothermal, solid biomass & animal products, biomass gas & liquids, industrial & municipal wastes).
Comparable EIA data for the United States (2007 figures) says non-hydro renewables accounted for 4.3% of its energy consumption.
Featured Product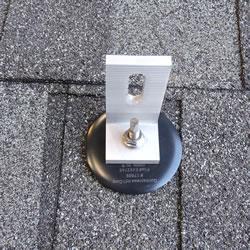 The QuickBOLT is THE affordable mounting solution for Asphalt Shingle Roofs. Not only is it the lowest cost system in the industry, it also maintains the fastest install time of any mounting system available. Unlike other Asphalt Mounting systems that require bulky flashing, the QuickBOLT uses a small EPDM washer and is 100% waterproof! Part # 17672