United States consumes four times the level of renewable energies as Canada.
Consumption of non-hydro renewables in Canada was 1% of the country's total energy in 2005, according to latest data from the U.S. Energy Information Administration.

Canada consumed 14.3 quadrillion Btu, of which oil was 33%, natural gas 25%, hydroelectricity 25%, coal 9%, nuclear 7% and 'other renewables' was 1% (includes solar, wind, tidal, geothermal, solid biomass & animal products, biomass gas & liquids, industrial & municipal wastes).
Comparable EIA data for the United States (2007 figures) says non-hydro renewables accounted for 4.3% of its energy consumption.
Featured Product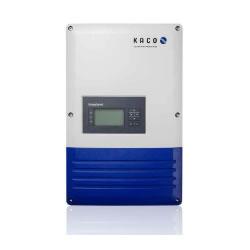 Small size, light weight, great features, best value! With a line-up of 1-phase transformerless units, KACO new energy will be inaugurating the new "blueplanet" solar PV inverter series. Newly designed and constructed from scratch, the blueplanet TL1 fulfil the highest requirements for optimum use in residential solar power plants.