Evopod, Ocean Flow Energy's semi-submerged, tethered, tidal turbine deployed in the fast flowing currents of Strangford Narrows, Northern Ireland. Evopod provides an innovative solution to tidal power generation as it avoids the need to install expensive pile or gravity base foundations.
Trials have started on a 1/10th scale Evopod tidal turbine device at Portaferry, Strangford Narrows in Northern Ireland. Evopod was launched and installed onto its pre-laid moorings over one period of slack water and was immediately generating. The unit which is fitted with a 1.5m diameter turbine is heavily instrumented to measure power generation, mooring loads and device motions.

Graeme Mackie, Managing Director of Ocean Flow Energy said, "The testing of Evopod's semi-submerged hull form and midwater buoy mooring system in the real environment of Strangford Narrows will provide invaluable data for the design and deployment of larger commercial scale units. The initial results from the tests at Portaferry have confirmed the viability of Evopod's innovative hull form and mooring solution and we are excited about the wealth of operational data to be obtained through this trial programme."
The performance data captured from Evopod's instrumentation will be fed into the generic tidal energy research programme EPSRC Supergen Marine phase 2 through cooperation with Queen's University Belfast who operate the Portaferry Marine Laboratory.
The construction and instrumentation of Evopod has been part funded by One NorthEast through a Research and Development Grant awarded to Ocean Flow Energy Limited, formally Overberg Ltd, in December 2007. The power control, instrumentation, data logging and communication package has been specifically developed for Ocean Flow Energy by NaREC. The system provides Ocean Flow Energy with the facility to remotely monitor and download data captured by Evopod from their offices in Newcastle upon Tyne over 200 miles from Portaferry
Featured Product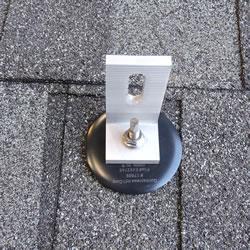 The QuickBOLT is THE affordable mounting solution for Asphalt Shingle Roofs. Not only is it the lowest cost system in the industry, it also maintains the fastest install time of any mounting system available. Unlike other Asphalt Mounting systems that require bulky flashing, the QuickBOLT uses a small EPDM washer and is 100% waterproof! Part # 17672