Lufft intelligent weather sensors now available with SDI-12 for increased flexibility in data management. Plug and play solution offered using Campbell Scientific Dataloggers.
LUFFT USA of Santa Barbara, CA recently announced that it's in-house manufactured 'WS' line of weather stations (including the economical WS200 ultrasonic anemometer) are now available with built in SDI-12 communication protocol. LUFFT WS weather stations and anemometers are now plug and play with any SDI-12 ready datalogger. LUFFT INTELLIGENT WEATHER STATIONS AND ANEMOMETERS still have the same notable increased functionality of a digital intelligent sensor, now with increased flexibility.

Campbell Scientific is a brand of datalogger that is widely used throughout the wind industry. Campbell recently integrated Lufft sensors into their Loggernet software and will sell Lufft sensors to customers upon request. LUFFT USA offers LUFFT sensors with a Campbell Scientific datalogger as a new turnkey wind and weather assessment package. Lufft sensors are available with optional heating depending on the power requirements at a site.
Intelligent wind sensing technology by Lufft USA is a reliable maintenance free way to measure the wind and weather. The WS series of compact intelligent weather sensors (WS200-WS600) along with VENTUS and V200A models, are designed with different parameters of measurement to meet your specific weather monitoring needs. The top-of-the-range model, WS600-UMB, measures temperature, humidity, precipitation, air pressure, wind direction and wind speed.
To request more information contact sales@lufftusa.com or call Ann Pattison at Lufft USA 805-963-7547. www.lufftusa.com
Featured Product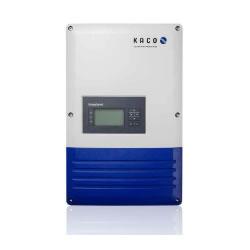 Small size, light weight, great features, best value! With a line-up of 1-phase transformerless units, KACO new energy will be inaugurating the new "blueplanet" solar PV inverter series. Newly designed and constructed from scratch, the blueplanet TL1 fulfil the highest requirements for optimum use in residential solar power plants.