Fronius has been involved in solar electronics for 20 years, during which time the inverter manufacturer has made a name for itself as the worldwide quality leader. This is not least due to the sustainable research and development that Fronius carries out.
The new technology and research centre in Thalheim, Upper Austria opened its doors in 2011; 140 solar experts research and develop pioneering technologies across the 34,000 m˛ site.

"Our customers can be sure of receiving products and services that are state-of-the-art and of the very best quality on the market," promises Martin Hackl, head of the Fronius Solar Electronics division. Fronius sets high standards, starting with the idea and extending through to the product, the technology and the service.
New technology and research centre
At the end of 2011, Fronius opened a new research and development centre in Thalheim, Upper Austria. The centre covers more than 34,000 m˛ and has 17 climate chambers, grid simulators and ample space for the design and development of prototypes and preassembly. More than 400 m˛ are devoted to test laboratories. A PV system is naturally also available for testing new technologies.
In-depth testing guarantees a high standard of quality
Fronius devices are characterised by the highest quality standards. The inverters undergo numerous in-depth tests under state-of-the-art conditions in the technology and research centre. Some of these tests examine electromagnetic compatibility (EMC). This means that the devices must be able to work properly in an environment without interfering with other devices or being affected by them. The Fronius EMC chamber provides technical facilities that are unrivalled in Austria. Inverters can be tested here at a voltage of 1,500 V DC.
Depending on the type of inverter and its intended country of use, various partial tests are carried out. In the "Radiated Emission" test, for example, the inverter is exposed to high levels of electromagnetic radiation using an antenna. At the same time, the measured level is compared with the limit values specified for the device. If the inverter meets the limit values, it has passed the test.
Fronius tests beyond the required limits. The devices, for example, undergo a more rigorous electrical noise test than that stipulated by the legislator. "We want to provide our customers with a high-quality product," explains Josef Feichtinger, head of the Compliance Engineering department.
The radiated measurements are carried out in what are known as absorber halls. These consist of a Faraday cage that is lined with ferrites* to ensure the required degree of field homogeneity. The electromagnetic waves inside the room are absorbed by the walls.
Qualitative tests like these are carried out continually throughout the development of a product. All devices that fall under the EMC Directive are always tested.
* 1. pure ferrite 2. strongly magnetic ceramic material (source: http://services.langenscheidt.de/fremdwb/fremdwb.html)
Featured Product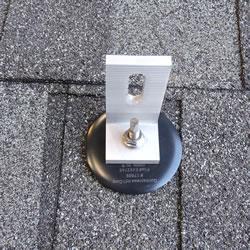 The QuickBOLT is THE affordable mounting solution for Asphalt Shingle Roofs. Not only is it the lowest cost system in the industry, it also maintains the fastest install time of any mounting system available. Unlike other Asphalt Mounting systems that require bulky flashing, the QuickBOLT uses a small EPDM washer and is 100% waterproof! Part # 17672