Flexible and user-friendly design makes the DLX a perfect solution to satisfy a range of solar power applications
Loves Park, IL – Danfoss Solar Inverters introduces the Danfoss DLX UL PV inverter series. These transformer-based UL and cUL-listed string inverters deliver industry leading 97.3% efficiency to maximize the effectiveness of solar power applications. Galvanic isolation ensures full compatibility with all PV cell technologies. Convection cooling helps minimize noise (<37db) and ensures long life and reliable operation even when subjected to temperatures ranging from -25°C….65°C / -13°F…+149°F. The IP65-rated die cast aluminum housing is well suited for indoor or outdoor mounting. The lightweight 42 - 46 lb. design makes them easy to handle and mount by one person, and a two-way interactive display provides multiple language options for quick and easy country configuration. They also provide fully integrated on or off site monitoring capability with no special software required, and are ConnectSmart™-compliant to enable real time monitoring with a smartphone, tablet or computer. 2.0, 2.9, 3.8 and 4.4kW models are available to satisfy a wide range of application needs.

"The DLX running on US grid delivers the performance, flexibility and user-friendliness to simplify installation and operation while absolutely maximizing energy yield in a wide range of solar power applications," says Uffe Borup, Director of Technology. "In addition to the benefits mentioned above, each unit has a full-color screen with an intuitive user-interface that provides ready access to graphs and diagrams that help operators make timely and informed decisions. And for larger sites, a single DLX inverter can serve as a monitoring hub that provides a single point of access for on site or off site performance checks at any time."
The DLX can be used together with the Danfoss CLX Portal, a universal internet monitoring system which provides access to key information for end customers, investors, installers and service companies. Additionally the DLX inverter features ConnectSmartTM. "Via ConnectSmartTM the installer or plant owner can use the Danfoss SolarApp to directly access live production data. It is a simple and uncluttered way of keeping track of production, revenue and saved CO2 emission – giving a real time visualization of the savings generated by the installation," says Merete Termansen, Product Manager Monitoring and Communication.
Two DLX UL inverters were recently installed at Freedom Field in Rockford, IL, producing full load of AC energy nearly each day - 4.4 kW on the top inverter connected to 12,222v panels and 4.4kW on the bottom inverter connected to 24,220v panels. Freedom Field is a non-profit organization whose mission is to increase regional awareness of renewable energy opportunities and to facilitate the development and commercialization of renewable energy solutions. These DLX UL units are available for monitoring on the CLX Web Portal and are now certified for US and Canada. http://clxportal.danfoss.com/index.php?module=AdministrationPlant&action=editplant&section=overview&plant=506
About Danfoss:
Danfoss is a global leader within energy-efficient solutions that help save energy and meet the challenge of climate change. Our key competencies are cooling of food, air conditioning, control of electrical motors, heating in buildings – as well as solutions for renewable energy such as solar power. Danfoss also comprises Sauer-Danfoss that is among the world's leading manufacturers of mobile hydraulics. We have built up our competencies within energy-efficient solutions for 78 years now. Today Danfoss has 110 sales companies around the world. Read more about Danfoss; www.Danfoss.com, and our energy-efficient solutions; http://www.danfoss.com/SolutionsReady/
Featured Product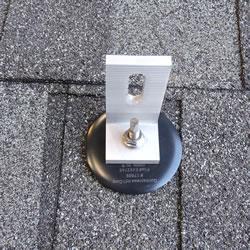 The QuickBOLT is THE affordable mounting solution for Asphalt Shingle Roofs. Not only is it the lowest cost system in the industry, it also maintains the fastest install time of any mounting system available. Unlike other Asphalt Mounting systems that require bulky flashing, the QuickBOLT uses a small EPDM washer and is 100% waterproof! Part # QBKit2