Lower rates are a step in the right direction, but U.S. market remains unfairly penalized by tariffs
Washington, DC -- The U.S. Department of Commerce recently completed an administrative review of the 2012 solar tariff case affecting imports of solar cells from China. Overall, the Department of Commerce proposed new rates lower than those currently in effect.

In response to this news, Jigar Shah, President of the Coalition for Affordable Solar Energy (CASE) released the following statement:
"The proposed lower tariff rates are a step in the right direction for the U.S. solar industry, and we applaud the Department of Commerce for reviewing competitive information and adjusting the tariffs downward.
"Lowering the tariff import tax means more American consumers will be able to afford solar power and more American solar companies will be able to expand their hiring.
"While this is positive news, it does not solve the underlying problem. The U.S. solar industry remains unfairly penalized by a trade policy that inflates the cost of solar power and has already expanded to include imports from Taiwan.
"We continue to urge the governments of the United States and China to negotiate an end to the trade war for the benefit of all countries involved."
About the Coalition for Affordable Energy (CASE):
CASE is a 501(c)4 organization whose purpose is to educate the Administration, Congress, the American solar industry and the public about the impact of protectionism on the affordability of solar energy and the American workforce. Its primary focus is to show decision, policy, and opinion-makers that the majority of pro-solar Americans oppose the SolarWorld petition, as it will result in the denial of affordable solar energy to a nation whose demand for clean and renewable energy is higher than ever before
Featured Product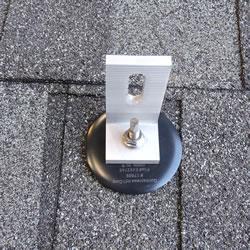 The QuickBOLT is THE affordable mounting solution for Asphalt Shingle Roofs. Not only is it the lowest cost system in the industry, it also maintains the fastest install time of any mounting system available. Unlike other Asphalt Mounting systems that require bulky flashing, the QuickBOLT uses a small EPDM washer and is 100% waterproof! Part # QBKit2