Renewable energy company Ethical Electric announces it has passed 56,000 customers, 588 million avoided pounds of carbon dioxide emissions, and $543,000 in non-profit donations.
Washington D.C., March 4, 2015 – Ethical Electric, a renewable energy company providing 100 percent clean electricity to retail power customers across seven Mid-Atlantic, Northeast, and Midwest states, as well as the District of Columbia, today announced several significant corporate giving and customer environmental impact milestones.

Ethical Electric dedicates a portion of its gross revenue on an annual basis to non-profit organizations, and has now donated over $543,000 to these groups. Of the total amount, $256,000 has been donated in support of environmental advocacy and education while $287,000 has been donated in support of multi-issue organizations to fund causes benefiting our planet and advancing equality, peace, justice, and equal opportunity.
"Ethical Electric's corporate giving underlines the collective impact consumers can create on climate and the environment," said Tom Matzzie, Founder and CEO of Ethical Electric. "Now more than ever, renewable energy is the best option for utility customers to create positive change."
In addition to creating a positive impact on social issues, Ethical Electric also makes it easy for customers to create environmental impacts. Altogether, Ethical Electric customers have prevented more than 588,471,000 pounds of carbon dioxide emissions – the equivalent environmental impact of nearly 219,000 acres of forest.
These environmental benefits will continue to grow through 2015 – each year an average Ethical Electric customer saves approximately 15,000 pounds of toxic pollution from entering the atmosphere, or approximately 1,225 pounds per month.
Ethical Electric has grown quickly since it launched in 2012 through several rounds of private investment and now provides more than 56,000 customers with clean electricity sourced from renewable energy projects, ideally within 200 miles of its customers.
###
About Ethical Electric
Ethical Electric is a renewable energy company empowering utility customers to cut emissions and support clean energy through 100 percent renewable electricity. The company buys electricity from local wind and solar farms in wholesale competitive energy markets and sells it to homes and businesses through their existing utilities instead of fossil fuel-based power. Ethical Electric devotes a percentage of its sales to support environmental causes, is a Certified B Corporation, a member of the U.S. Green Building Council, and is certified through Green-e Energy – the nation's leading independent consumer protection program for renewable energy sales in retail markets. For more information or to become a customer, visit www.ethicalelectric.com
Featured Product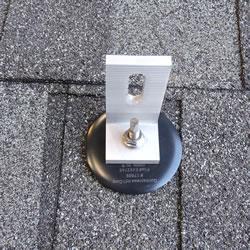 The QuickBOLT is THE affordable mounting solution for Asphalt Shingle Roofs. Not only is it the lowest cost system in the industry, it also maintains the fastest install time of any mounting system available. Unlike other Asphalt Mounting systems that require bulky flashing, the QuickBOLT uses a small EPDM washer and is 100% waterproof! Part # QBKit2