Slovenian motor component manufacturer Hidria is set to dominate the global electric hybrid drive market after a stand-out deal at CWIEME Berlin 2015.
Last week at the worlds' largest exhibition for coil winding, insulation and electrical manufacturing, Slovenian electric motor component supplier Hidria Rotomatika signed a €30 million deal to supply drivetrain components for use in hybrid cars by Audi and other major automotive brands.

The deal will see Hidria's technology built into half a million vehicles per year in the mid and higher end of the hybrid electric car market from 2016. Hidria already supplies key parts for use in models by Peugeot, Volvo, Volkswagen, Renault, Mercedes and Chrysler.
The company's hybrid electric drives enable extra power on acceleration, while generating electricity when the car is braking or going downhill, and charging batteries needed to start the internal-combustion engine.
Sales director, Aleš Poljanšek is thrilled by Hidria's success. "We have concluded several important deals at CWIEME Berlin and received many visitors this year and in previous years. That's why we put so much effort into our booth. The market is here and the show provides a relaxed atmosphere to chat with and entertain our customers," he said.
Featured Product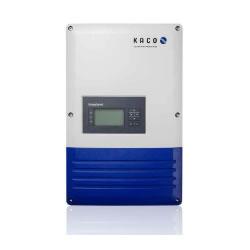 Small size, light weight, great features, best value! With a line-up of 1-phase transformerless units, KACO new energy will be inaugurating the new "blueplanet" solar PV inverter series. Newly designed and constructed from scratch, the blueplanet TL1 fulfil the highest requirements for optimum use in residential solar power plants.