Wind Power Without The Mills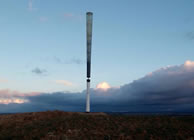 Bill Tucker for Forbes:
Vortex Bladeless is a radical company. It wants to completely change the way we get energy from the wind. Think wind stick instead of a massive tower with blades that capture blowing winds.
Wind stick. Really. Lest you think I'm mad, I've included a picture of this bladeless generator that helps with the visualization and explains the company name.
See? There are no blades. What that "stick" (the company prefers, mast) does is capitalize on an effect of the wind which has been a very serious problem for architects and engineers for decades.
When wind hits a structure and flows over its surfaces the flow changes and generates a cyclical pattern of vortices at the tail end of the flow. This is known as the vortex shedding effect which creates something known as vorticity and that is what Vortex Bladeless uses to generate energy. For those who need a explanation that exceeds my ability to fully explain, check out this link on Wikipedia and then come back and join the rest of us who won't wait for you. (you're clearly ahead of us anyway)
Comments (0)
This post does not have any comments. Be the first to leave a comment below.
---
Post A Comment
You must be logged in before you can post a comment. Login now.
Featured Product
Solar FlexRack TDP™ Turnkey Trackers are the next generation, single-axis solar tracker solution, complete with comprehensive services and support. What sets this tracking solution apart is its updated tracking technology bundled with a full suite of best-in-class project services and support for commercial and utility-scale solar customers. The TDP Turnkey Tracker offers the lowest total cost solution by providing the only tracker in the industry that includes full design, installation, commissioning, and support services bundled in one contract. Solar FlexRack's TDP Solar Tracker solution is supported by an in-house team of experts that includes mechanical, structural, civil, electrical and geotechnical engineers and geologists. To learn more about Solar FlexRack's TDP Turnkey Tracker, one of the most cost-effective and comprehensive tracker solutions available, please visit: http://solarflexrack.com/products/tracker.