Wind turbine technology stores excess wind power for when gusts turn to breezes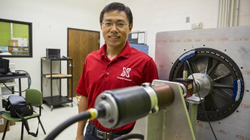 Megan Treacy for TreeHugger: A new technology developed by University of Nebraska-Lincoln electrical engineering doctoral student Jie Cheng solves both of those problems by harnessing the excess wind energy usually wasted as spillage and storing it for use when wind speeds dip, making wind turbines more efficient and consistent.
Cheng's system converts and directs the extra wind energy to an air compression tank, where the energy is stored until wind speeds dip below the maximum capacity. Using a rotary vane machine that is connected between the turbine's gearbox and generator, excess energy is diverted and stored in the air compression tank. When the wind dies down, the tank then kicks in and reverses airflow back to the rotary vane machine to generate electricity.
In a recent study of his prototype, Cheng found that a 250-kW system would produce an additional 3,830 kWh of electricity per week or an additional 16,400 kWh per month based on historical wind data from Springview, Nebraska. That extra electricity is about 18 times the monthly energy use of a typical American household. Cont'd...
Comments (0)
This post does not have any comments. Be the first to leave a comment below.
---
Post A Comment
You must be logged in before you can post a comment. Login now.
Featured Product
The Sunny Boy 5.0-US / 6.0-US features a wealth of improvements and joins SMA's lineup of field-proven solar technology backed by the world's #1 service team. The world's first Secure Power Supply now delivers up to 2,000 W of opportunity power when the grid goes down and the sun is shining. Installation has never been easier thanks to SMA's Installation Assistant, direct access via smartphone, and integrated DC disconnect. The Sunny Boy's multiple independent input channels, each with SMA's OptiTrac™ Global Peak, mean hundreds of stringing configurations for flexible system design while solving the challenges of complex roofs and shading. The residential PV market is changing rapidly, and we understand that your bottom line matters more than ever. That's why we've designed a superior residential solution that will help you decrease costs throughout all stages of your business model. The Sunny Boy 5.0-US and 6.0-US are once again raising the bar by offering improved performance, enhanced features, and most importantly, cost savings across the entire spectrum of residential installation processes.