Researchers want oil and gas drillers to adopt geothermal technology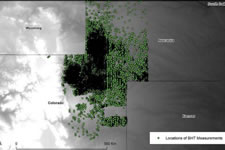 By Brooks Hays for UPI: Researchers at the University of North Dakota believe geothermal energy production should be a significant part of America's future energy portfolio.
But to get the industry off the ground, proponents are looking to an industry not normally associated with renewable energy -- gas and oil drillers.
"Oil- and gas-producing sedimentary basins in Colorado, Illinois, Michigan, and North Dakota contain formation waters of a temperature that is adequate for geothermal power production," researchers wrote in their new study on the subject, published this week in the journal Geosphere.
Geothermal energy requires heat, and natural sources of heat lie deep within the ground. Gas and oil drillers have already built the infrastructure to access deep-lying natural resources. Of course, gas and oil drillers want gas and oil, not heat. But in their quest for gas and oil, they get heat nonetheless. Cont'd...
Comments (0)
This post does not have any comments. Be the first to leave a comment below.
---
Post A Comment
You must be logged in before you can post a comment. Login now.
Featured Product
The FCL model split-core current transformers have multiple benefits, including a flexible twisting motion for ease of application. Installing a split-core CT means there is no need to disconnect your primary conductor(s) which reduces downtime. Many customizations are available including extended secondary lead wire lengths, various outputs including 5A, 1A, 1VAC, and 0.333VAC, and custom rubber inserts to help center the CT and maintain accuracy. The FCL models can be used in applications up to 720VAC and have an operating frequency from 50Hz to 400Hz.