Researchers want oil and gas drillers to adopt geothermal technology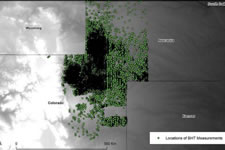 By Brooks Hays for UPI: Researchers at the University of North Dakota believe geothermal energy production should be a significant part of America's future energy portfolio.
But to get the industry off the ground, proponents are looking to an industry not normally associated with renewable energy -- gas and oil drillers.
"Oil- and gas-producing sedimentary basins in Colorado, Illinois, Michigan, and North Dakota contain formation waters of a temperature that is adequate for geothermal power production," researchers wrote in their new study on the subject, published this week in the journal Geosphere.
Geothermal energy requires heat, and natural sources of heat lie deep within the ground. Gas and oil drillers have already built the infrastructure to access deep-lying natural resources. Of course, gas and oil drillers want gas and oil, not heat. But in their quest for gas and oil, they get heat nonetheless. Cont'd...
Comments (0)
This post does not have any comments. Be the first to leave a comment below.
---
Post A Comment
You must be logged in before you can post a comment. Login now.
Featured Product
The sonnenBatterie eco is a fully-integrated, all-in-one residential energy storage solution that utilizes intelligent energy management software and lithium-ion batteries to turn houses into smart energy homes. The system is available in a variety of storage capacities and configurations, allowing for extensibility and expansion and integrates with new and existing PV systems. The sonnenBatterie eco allows customers to save money every single day by storing excess energy generated by solar PV systems and using the stored energy from the battery to power homes when the utility rates are more expensive or when the grid is out of service in addition to enabling customers to go off-grid.