How much noise is produced by wind turbines?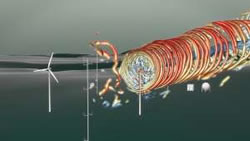 Phys.org: Wind energy is to have a major share in the future renewable energy mix. The Germany-wide TremAc project is aimed at improving the planning, development, and acceptance of wind power plants and at developing objective criteria for their emissions. For this purpose, experts will study the interaction of acoustic and seismic vibrations of wind power plants and plan to generate a model to compute both emissions. TremAc is funded with EUR 1.85 million by the Federal Ministry for Economic Affairs and Energy.
"We want to compute the complete chain of effects from the plant to the population," Theodoros Triantafyllidis, coordinator of the TremAc cooperation project and Head of the Institute of Soil Mechanics and Rock Mechanics of KIT, explains. Within the framework of the TremAc cooperation project, a single chain is to be developed for modeling all vibrating plant components and the surroundings, i.e. the rotating rotor blades, drive shaft, gondola suspension and tower structure, foundation, and the ground, various topographic terrains and airflows as well as adjacent residential buildings and workplaces.
Comments (0)
This post does not have any comments. Be the first to leave a comment below.
---
Post A Comment
You must be logged in before you can post a comment. Login now.
Featured Product
Joyce/Dayton, North America's premier manufacturer of screw jacks and actuators has been in continuous operation for over 140 years. Joyce has become the trusted name in solar tracking with more than 2 gigawatts of power generation equipment in service world-wide. Consider the benefits: • Reliably position 50 tons (or more) • Long life/Low maintenance design • Motorized to meet customer specifications • Customer specified load/speed/fit • Built to ISO9001:2008 standards • Superior surface protection • Integral Trunnion mount • Easy to install. Joyce delivers more than the finished product. Quality is built into the whole process from expert engineering support during design conception to top-notch customer support after shipment. Contact Joyce for the products and support you need.