New Interactive Atlas Puts Spotlight on Planet's Solar Power Potential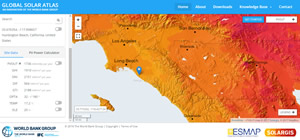 Peter Koekoek for Daily Planet: A new web-based tool provides free access to accurate data about the solar power potential of your location – or any other part of the world.
Recent research has revealed how Americans across the political aisle are united by renewable energy. Roughly the same amount of people with rooftop solar power installations are Republicans and Democrats.
But geographically, not all places on the planet equally suitable for solar power – and that does not only include the amount of solar radiation that reaches the surface. The air temperature and terrain elevation may also impact how well solar equipment will fare in a particular area.
In some regions, less solar panels are needed to generate the same amount of power compared to other areas. The Global Solar Atlas now provides you with a colourful world map that allows zooming in on areas of up to one kilometre. Cont'd...
Comments (0)
This post does not have any comments. Be the first to leave a comment below.
---
Post A Comment
You must be logged in before you can post a comment. Login now.
Featured Product
The selection of effective biogas treatment equipment is important, both in optimizing the cogeneration of electrical and thermal energy, making the most of the available renewable energy, and reducing energy consumption and operating. Parker's solution is to dry the gas, firstly by cooling using a water-cooled heat exchanger working with an air-cooled water chiller and secondly, by removing the condensed water with a cyclonic water separator. The cooled gas can then be reheated to reduce the relative humidity and thus meet the technical demands of gas engines, turbines and other downstream equipment.