Record-breaking solar panels could slash power costs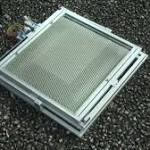 Reuters Jim Drury: Swiss start-up Insolight says its solar panels double the yield achieved by other sun-powered technology. In independent tests the panels reached an efficiency of 36.4 percent. "Traditionally the market sits at around 18 percent and we can double this. Therefore we can double the return on investment for the final client....Our key innovation is that you do not need to rotate the panel in order to follow the sun. We can follow the sun in a flat manner, like any other solar panel, which makes it that our panel can be installed on standard rooftops, with standard mounting technology." Tiny square super cells capture all of the sun's rays, underneath round lenses, using a patented microtracking system. Watch Video.
Comments (0)
This post does not have any comments. Be the first to leave a comment below.
---
Post A Comment
You must be logged in before you can post a comment. Login now.
Featured Product
Visit Booth #2886 at AWEA Windpower, May 22-25 in Anaheim, CA to see how Parker products, systems and services help you raise performance while reducing risk in wind energy environments. Parker has been on the forefront of windpower for over two decades, with solutions that touch virtually every critical function in the turbine. From integrated lube oil filtration systems and sealing technologies that make drive trains more reliable and bearings operate like new to compact blade pitch actuation systems that maximize rotor efficiency and minimize vibrations in the turbine. Parker has the solutions that make today's advanced and sophisticated wind power plants better and smarter. Case in point? Our high efficiency power conversion systems that deliver optimum power to the grid. While our scalable evaporative cooling system lowers overall system cost with up to 40% higher power throughput.