A Case Study of an Atlantis Energy Systems, Inc. Collaboration Future House USA
Atlantis Energy Systems, Inc. Proves its Metal as Fixture in the PV Marketplace
Kelly Jon Andereck for | Atlantis Energy Systems, Inc.
Architecture in the twenty first century has been characterized by a rich variety of styles and methods. Responding to ever-changing political and social conditions, as well as to technological advances, architects have sought solutions to the problem of redefining building and design to reflect the modern age. Furthermore, there has been a rewarding cross-fertilization between engineering and architecture not seen since Louis Sullivan. Close study of these significant works by innovative design teams is an invaluable method in understanding the concerns and thought processes of these newest modern masters.
These new masters use integrated design as a process addressing amongst other things, the ever increasing pressure on family units, business owners and governments of all scale and level to deal with energy and material resources, consumptions and health risks. In addition to creating a win-win-win for all players, its most advantageous benefit is to the homeowner whose benefits go beyond providing cost effective solutions to the household budget. In fact, benefits can be illustrated through decreased health risk, mortgage cost reductions, higher resale value, decreased carbon footprint and most importantly, increased monthly consumer power.
Throughout the world examples can be seen that illustrates full integrated design. From Net Zero Energy homes in South Chicago to high-rise multi use projects in Dubai, "Green" building systems are being installed and integrated with common place systems that have been used for decades. China is no exception, design teams from Skidmore, Owings and Merrill, LLP (SOM) and Hellmuth, Obata + Kassabaum, Inc.(HOK) have been exporting there knowledge and crafts throughout the country (example of each). Smaller firms, developers and contractors are also producing "state-of-the-art Green" buildings and homes. One such project is the Future House Case Study Project in Changping District, Beijing.
Future House Demonstration Project
Part 1—Introduction
Bold new buildings have given Beijing China a new appearance since the 2008 Summer Olympic Games. Modern Beijing is a collection of work celebrating the chaos of urban life in the capital city from PTW Architects "Water Cube" swimming center, Rem Koolhass's "Z crisscross" of the China Central Television building and Herzog and de Meuron's "bird-nest" or National Stadium. In 2009, SOM was awarded the contract to create the new Central Business District in the capital and will integrate into the existing downtown urban district improved transportation infrastructure while introducing energy-efficient commercial buildings and green public spaces. The plan also provides a framework for new sustainable growth that is expected to result in eliminating 215,000 tons of CO2 per year. Not to be left out of the dynamic changes occurring at speeds unprecedented in the modern age, China's single family residences have also been targeted as an upgrade to Beijing 1.0.
In addressing their role as one of the largest greenhouse gas emitters in the world, China's Ministry of Construction, PRC, commissioned a demonstration project titled "Future House", to showcase the most advanced sustainable energy building practices, on a world stage. The demonstration committee was intent on illustrating China's growing energy concerns and was showcased at the 2008 Olympics as a platform to inform and educate. George Bialecki, Jr., the inspiration behind Future House USA insisted that the United States participate in the project even though the U.S. Federal Government at the time, refused to participate in the ministry's development. Largely funded by himself, Bialecki sees the showcase illustrating three (3) key economic truths to the visitors and host: the continued importance of lowering emissions and energy usage by homeowners; the leadership of "made in the USA products"; and creation of green collar jobs through a green economy. Bialecki continues "through integration and our building model Home Biology 101™, we will have the ability to lower the life cycle cost, integrate systems and processes, while creating a healthier and more efficient structure"
Future House broke new ground by uniting ten countries from around the world with a common goal of environmental responsibility and ecological forethought in advancing the art of home building. Along with Future House USA other counties involved were Germany, Japan, Spain, Sweden, South Korea, Canada, Italy, Norway and China. Future House USA began as a traditional 1500 sq ft. home, however, the Ministry of Construction, PRC encouraged increasing its size, to more of a classroom, to accommodate the thousands of visitors from around the world they were expecting to visit during the Olympics and after pushing the project footprint to 4,200 square foot.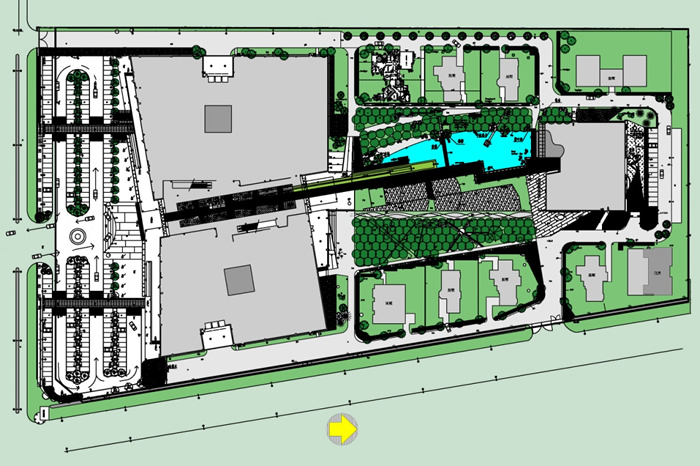 Figure 1 Future House Master Plan, Ministry of Construction, PRC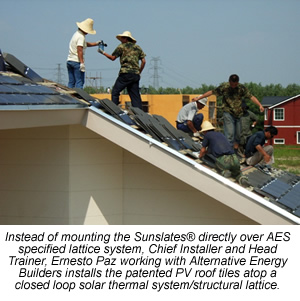 Consequently, Future House USA, a Zero Net Energy Home was engineered to commercial specifications using the energy naturally stored in the ground under the back yard (ground source energy) and the sunlight hitting the southernmost roof area at which, an Atlantis Energy Systems' hybrid photovoltaic (PV) / solar thermal system provides enough electricity and hot water to compensate for excess energy used by a typical family and to accommodate the increased usage. Atlantis Energy Systems, Inc. was a product sponsor and a key participant in Future House USA contributing solar design, engineering and product to the project. When incorporated in 2008, the owner, Frank Pao, wanted the company to continue its production of award winning "Off-The-Shelf" products that can be purchased and used by an average family in addition to his goal of being the premier manufacturer who continually pushes design and technological envelopes and provides full integration services to the architectural and engineering community. "When the architect has a vision to incorporate photovoltaics into his curtain-wall for 85 story tower in say, New York – we want to provide the know how to get it done. We have worked with SOM and others to push this engineering envelope."
"Indeed, our team of engineers and architects provide the entire building community with what I think, is the best design collaboration, specifications and manufacturing capabilities anywhere, but our off-the-shelf product is where we showcase our engineering skills to the masses", Joe Morrissey, Vice President for International and BIPV Sales says as he describes their products used at Future House. The Photovoltaic System is a 7.2 kW Atlantis Energy Systems (AES) SUNSLATES®, a system integrally designed into the conventional roof system. Designed by the AES team, the PV System covers the south facing roof areas of FHUSA. An additional 3.7 kW is provided by the eight custom "solar trees" mounted on steel rounds in the backyard.
AES, a US company with offices in New York and California, manufactured the Sunslates® and the Solar Trees in Poughkeepsie NY and shipped to Beijing for the project. The 11 kW (dc rated) system is designed to supply 44kWh per day. Solar calculations were based on Beijing climate conditions provided through DOE hourly weather data TMY2 and Solar and Wind Energy Resource Assessment (SWERA).
PV/T Hybrid System
The roof is a Decra™ recycled aluminum and zinc stone coated, non-polluting metal standing seam with an 80 year warranty and wind resistance of 135 mph. At the south roof under the Sunslates® is a Solar Thermal system providing Domestic Hot Water. The integrated PV/T system serves several functions in addition to increasing the designed roof R value of 42 (This analyst has preliminarily calculated to approximately 4.66) to ~R47. It is designed to keep the PV cells cooler, as heat generated by the photovoltaic cells is transferred to the water beneath, recovering heat that would otherwise be lost to the exterior, and also raising the electrical efficiencies of the Sunslates® as much as 10%.

Figure 2 Atlantis Energy Systems PV/T (Building integrated photovoltaic system with heat recovery)
Presume a temperature at the top plate of the Sunslates® (clear tempered glass surface above the EVA and photovoltaic cells) of 83°F one can assume an increase of temperature of approximately 177°F at the peak of energy production on a clear day in summer. Atlantis Energy Systems, PV/T hybrid uses this 177°F to preheat the Domestic Hot Water at Future House thereby reducing hot water demand and space heating consumption by roughly 2000kWh annually. As the under slate thermal system picks up the latent heat, temperatures at the PV cell are kept constant maintaining specified solar efficiencies. In fact, the thermal system beneath the Sunslates®, the solar cells will maintain specified efficiency at temperatures going above 80 degrees F, otherwise without the thermal system cooling it, the efficiency would start to degrade above 80°F as much as 10% or more when temperature goes above 100 degree F.
Two (2) 50 gl. solar storage tanks were used for the HW storage completing the system. As an additional feature, "de-super-heater" options on the heat pumps were primarily used for A/C through the geothermal well and as needed. A third source of domestic hot water production comes from the reverse flow fuel cell which may be added depending on the domestic hot water (DHW) user needs (based on our initial design requirements).
As data is collected, the FHUSA team will fine tune the DHW system as needed. The goal is to supply all DHW with sustainable sources. An on demand electric water heater unit is also installed for auxiliary back up. It receives preheated input and will only operate in the event of a large multiple of cloudy days in the winter months.
Currently monitoring the actual productivity using a Campbell Scientific data logger is providing the manufacturer with continuous data points enabling AES to continue to refine the solar power production system with the help of Solar Power Control.
The system consists of a 16 KW rated inverter manufactured by Solar Power Control, Ltd., a local Chinese company providing control systems for grid tie capability and provides the FHUSA team with the required 220 V 50 Hz electrical standard, with a SunExtenders™ battery storage creating an energy independent condition when needed. The direct tie into the EMS and Energy Portal provides smooth control, detailed monitoring, analysis of productivity, inverter and battery performance.
Energy Analysis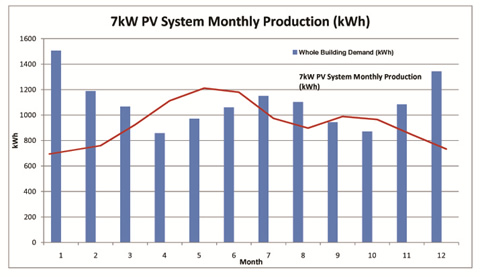 Chart 1 Monthly Solar Production vs. Whole Building Demand
According to a "Review of Residential Electrical Energy Use Data", released by the NAHB in July of 2001, "Current trends in data indicate that nationally, single family homes use approximately 5.0kWh of electricity per square foot per year (10,000kWh/yr or 833kWh/month for a 2,000 square foot house) (pg3). Therefore, Future House at 4,200 square foot will have an expected average electricity usage of 21,000 kWh annually. However, using the before mentioned mechanical & electrical systems and the thermal system below the photovoltaic roof shingles, a 40% reduction in usage was achieved in the product and system specification process alone. Ultimately, the expected usage of roughly 13,000kWh was low enough for the design team to add a renewable energy system at low enough first cost to justify the expenditure.
Based on the design criteria of 4 household members, the Sunslates totaling 7.2kW met the required output of electricity needed to bring the project within the goal net zero energy however, fell short of the electricity needed for the increased size to be completely zero energy as illustrated in chart 1 using only the Atlantis Sunslates® roof mounted Solar Shingles. As one can see, in the hot dry months of July and August and coldest Beijing winter months November through March, electricity demand exceeds production. The stakeholders decided to add (8) 463kW Solar trees using (4) 4'-0" Galvanized Steel Poles mounted on 12" diameter footings with 56"x56" Integrated glass PV atop the 1"Ø steel rounds. As a result, more than enough electricity was provided to house.
SOLAR PHOTOVOLTAIC/THERMAL (PV/T) - SYSTEM HIGHLIGHTS
Climate of Beijing, RPC:
Solar Resource: 4.86 kilowatt-hours/square meter/year
Average High/Record Low Temps: 89.78°F / 8.96°F
System Details:
Designer and installer: Atlantis Energy Systems, Inc. (AES)
Collector Area: 840 square feet
Average Production: 50.3 gigajoules
Collectors: AES Building Integrated Thermo Electric System (B.IT.E.R.S)
Controls: Solar cooling controller designed by South Florida Controls
Heat Exchangers: 1.2 million BTU/hour, double walled heat exchanger for domestic hot water located in the basement
Cooling:
(2) 3 ton Climate Master water-to-air heat pumps
(3) 1 ton heat pumps placed in high occupancy areas
(1) Ground Source heat pump with (8) 229'-7" deep vertical loops located in the front yard
Advanced Industrial Components:
Solar Preheating / Hot Water Tanks: 100 gallons
Pumps: three (3), ranging from 2 to 7 horse power
Freeze Control: Propylene glycol
System Installation: Tubes horizontally custom-rack-mounted through steel lattes on sloped roof at 30° tilt
Commissioned: 2008
Cost: $56,190.
About the Learn Green:
Learn Green ( www.learngreen.com ) is dedicated to bring individuals, students, and the business community a portfolio of practical applications, products, and educational tools that will:
1.-reduce energy consumption
2.-create jobs
3.-lower greenhouse gases
4.-and save consumers money
helpPro, our commercial version, is an affordable real-time energy dashboard producing transparency in energy consumption. It can interface with an energy management system or can be installed standalone. Knowing a building's energy consumption, in real-time, allows for quicker modifications and teaches behavioral change to avoid unnecessary high energy bills. It will help your performance contract to perform better, and is the owner's monitoring tool in any energy efficiency retrofit project. helpPro, when outfitted, as a dashboard, in high traffic area, will reveal consumption, educate, showcase building features and become your true transparent tool. When occupants see, in real-time, energy consumption, they will begin to positively participate to create even greater savings. Save a teacher, employee or program! Residential version launching late 2011..
About the Author:
A Design Consulting is a firm specializing in environmental Architecture, analysis and marketing. Principal, Kelly Jon Andereck, LEED AP is currently focused on the full market penetration of the photovoltaic industry. He is an ongoing consultant to Atlantis Energy Systems, Inc. and does extensive work with other PV manufacturers, solar companies, installers and various electric utilities. Always a leading edge thinker, some of his non-architectural accomplishments include:
USGBC Chicago Greenbytes Editor 2003-2004
USGBC Chicago Founding Board member 2002-2004
USGBC Chicago Founding Finance Committee Chair 2002-2004

USGBC National Codes Committee 2003- 2007 continued my service in committee.
The content & opinions in this article are the author's and do not necessarily represent the views of AltEnergyMag
---
Comments (0)
This post does not have any comments. Be the first to leave a comment below.
---
Post A Comment
You must be logged in before you can post a comment. Login now.
Featured Product
Morningstar's TriStar MPPT 600V charge controller leverages Morningstar's innovative TrakStar™ MPPT technology and our more than twenty-five years of power electronics engineering excellence, to enable the widest input operating voltage range available from a solar array, wind turbine or hydro input. This controller's standard and DB versions are for off-grid applications, and the TR versions were developed to enable retrofitting grid-tied systems with battery backup.