Iowa has led the nation in attracting wind energy manufacturers and building a robust supply chain that supports more than 2,300 jobs and involves over 80 Iowa businesses.
Iowa Now Gets 20% of Electricity from Wind
Debi Durham | director of the Iowa Economic Development Authority
Iowa Now Gets 20% of Electricity from Wind --- How does Iowa reaching this goal impact the wind industry?
Reaching this goal speaks to Iowa's continued strength and commitment to wind energy, and on the larger industry level, it also is a great demonstration of how alternative energy sources like wind are now front and center as viable and sustainable energy solutions.
It has been nearly thirty years since Iowa Governor Branstad signed the nation's first renewable energy standard during his first term in 1983. When Iowa set out with our plans for alternative energy, some viewed it as ambitious because wind as a major energy source wasn't widely adopted. We chose to be trailblazers and that choice was a wise investment.
Now that we've achieved our goal of generating 20 percent of electricity from wind, we can help provoke dialogue on the Government level and encourage new projects that invest in wind energy and set that bar higher. Twenty percent electricity generation is just the beginning of the state's larger goal to generate and transport wind to the rest of the country, allowing us to export 30 percent of that energy to other states. Iowa has proven that initiatives which forge strategic partnerships among government, private industry and academic institutions can spur economic growth and development. We're looking forward to continuing on our path of being an energy leader in the Midwest, the United States, and the world.
How did the state achieve this goal?
Several years ago Iowa officials set out with the goal of making wind energy a crux of our energy mix seeing its growth potential and sustainable nature. The genesis of that goal setting came from the desire to take advantage of wind being one of the state's abundant natural resources. From there, we worked to make the state a fertile ground for the wind industry to thrive. We provided incentives for manufacturers, developed a robust training platform and supply chain for the next generation of research and development companies.
One of the more recent accomplishments to help achieve our goal came from MidAmerican Energy's history-making development near Adair, Iowa. The company is completing a new 594 megawatt wind farm which is the first of three major projects that the company has planned for the year.
Iowa has led the nation in attracting wind energy manufacturers and building a robust supply chain that supports more than 2,300 jobs and involves over 80 Iowa businesses. Including MidAmerican's developments, the state of Iowa has nearly 2,000 megawatts of new capacity under construction as of July which is more than the whole of last year, showing significant uptick in our industry after a short lull in the past year. Iowa is just part of the puzzle as most regions across the U.S. are also picking up with more wind projects.
Iowa has long been considered a leader in wind energy, what is the next step after reaching this goal?
One of the most important parts of goal setting is to have a short and long-term vision and to modify that vision as variables change. Iowa has been very successful in building wind generation. Iowa's vision continues through exporting that energy generated in the state to locations with high energy consumption.
As the location where the nation's prime wind resources meets wind component manufacturing, skilled workforce and research and development, Iowa will continue to build the state's wind industry and expand our reach as the center of the nation's wind resources. Our combination of supportive renewable energy policies, logistic and supply chain efficiencies, competitive business climate, and a heritage of manufacturing will continue to grow our industry and continue to attract companies that harness innovation like MidAmerican and Siemens to help us reach that goal.
Who are the most important players in the process and how do they work together?
There are many important players in Iowa's wind industry. Obviously many key plans and decisions are put into action are at the Legislative level, but also, organizations such as the Iowa Wind Energy Association and Iowa Alliance for Wind Innovation and Novel Development (IAWIND) serve as great partners in fostering the state's initiatives and promoting the value of increased use of wind energy in the state.
Additionally, Iowa companies such as MidAmerican, Clipper and Acciona have expanded their operations and developed several new projects in the state and helped to attract major partners like Siemens, TPI and Trinity Towers who want to take advantage of the state's access to robust wind markets.
Iowa also has a strong higher education network that supports the wind industry called IAWIND. It includes seven of the state's community colleges and the state's three regent universities to form comprehensive wind energy training programs. Focused on wind turbine operations and maintenance and manufacturing, the programs offer a wide variety of options ranging from certificates to bachelor's and master's degrees.
How does the wind energy contribute to the state's economy?
Wind has been a robust growth industry for the state. The industry continues to expand and currently has over 2,500 turbines capable of producing 3,675 megawatts of power, ranking us second among U.S. states in total generation. In Iowa all necessary components for technology, manufacturing and development are accessible in one place, making Iowa one of few states with an independent wind cluster economy.
Also, nationally Iowa ranks second for wind jobs and is home to nine international wind manufacturers. We're also the leader for workers employed in manufacturing for the wind industry and second for construction and operations and management. Our wind industry is further strengthened by highly qualified and skilled workers. Approximately 4,100 manufacturers in state employ more than 198,000 Iowans and generate more than $9.5 billion in payroll. These workers are skilled at constructing large and robust machinery and will continue to help grow the Iowa wind industry.
What is Iowa's strategy to developing alternative energy sources? Attracting more wind companies?
Iowa is fortunate that much of our strategy for developing energy sources and attracting more wind companies lies in our natural resources. As a state we are centrally located making us a prime location for transport. Iowa is at the heart of a region that not only boasts some of the nation's most abundant wind resources but also where four proposed transmission lines converge to allow Midwestern wind to be distributed into various regional transmission systems. Iowa is one of several states in the region that are advocates for increased wind transmission which we know will unlock even more resources. There continue to be some of the best resources in the nation undeveloped in Iowa which will grow exponentially when the infrastructure for transmission is complete.
Also, we continue to invest in our work force so that new and existing companies have access to the best talent for their companies. The state also offers industry-renown assisted training programs in which community colleges work with company trainers to develop customized programs for students who want to work in the wind energy industry – shortening the time between hiring and profitable productivity.
Is there also a strong solar component to the strategy? What other energy sources are in the mix?
Solar has certainly emerged as a great complement to other alternative energy sources such as wind. Its potential as a free, non-polluting inexhaustible resource are attractive and have not yet been harnessed as solar technology is continually changing. We are looking at ways to further integrate solar energy into our alterative energy strategy because as with wind, we feel there is potential for it to become a viable part of the state's and nation's energy mix. We are also exploring the uses of commercialized algae technology. Green Plains Renewable Energy is part of project in Shenandoah, Iowa that is producing algae that can be used for advanced biofuel production and as biomass for energy production.
Iowa was recently one of 24 states that supported a letter to President about encouraging a more favorable business climate for the wind industry. Why are steps like tax credit extensions so pivotal to the wind industry?
Tax credits are pivotal for wind manufacturing and continued work on projects. Now that the industry is making a comeback after the economic downturn, it's important to maintain the momentum and tax credits help to do that. On a larger scale wind has proven to be a strong factor to driving economic growth, energy development and the creation of high-paying jobs in Iowa and across the country. Tax credit extensions will help to ensure that growth is sustainable in the short and longer-term.
Do you see a day when the alternative energy industry will be self-sufficient without the tax credits and other government subsidy programs?
While some alternative energy resources like wind are robust and showing significant growth and continued momentum, they have developed as such in great part to government subsidy programs and tax credits. As a result of tax initiatives, competition has flourished in the wind market allowing for job creation, new innovative technologies and increased project pipelines through private sector capital becoming more cost competitive with traditional electrical generation.
Debi Durham – INTRODUCTION
Governor Terry E. Branstad appointed Debi Durham director of the Iowa Department of Economic Development in January 2011. As one of her first orders of business, Debi worked with the Governor and legislators to restructure the department to create a public-private partnership to update and improve Iowa's delivery of economic development services.
That led to the creation of the Iowa Partnership for Economic Progress – the umbrella organization for the new structure. Debi now serves as the director of the Iowa Economic Development Authority, the public arm that replaces IDED and oversees the traditional economic development programs.
Prior to leading Iowa's economic development initiatives, she served as president of the Siouxland Chamber of Commerce since July 1995. She also served as president of The Siouxland Initiative (TSI), the economic development corporation serving the tri-state metropolitan area, and the Siouxland Chamber Foundation. In both 2007 and 2008, TSI was recognized as one of the "Top-Ten" economic development groups in the nation.
In June 2009, the Downtown Rotary Club in Sioux City recognized Durham as their Key Way award winner. The annual recipient is recognized as a local leader who has "contributed greatly to the health and prosperity of the area through business and community involvement." Durham was also recognized by the Iowa Association of Business and Industry as one of "Five Iowa Women You Should Know" in 2007. In 2003, she was named to the Junior Achievement Hall of Fame and was the Republican Lt. Gubernatorial candidate in 2002.
Debi holds a Bachelor of Science in Business Adminstration and a Marketing and Management degree from Missouri Southern State University. Durham and her husband Joel have two children, Beau and Jordan.

The content & opinions in this article are the author's and do not necessarily represent the views of AltEnergyMag
---
Comments (0)
This post does not have any comments. Be the first to leave a comment below.
---
Post A Comment
You must be logged in before you can post a comment. Login now.
Featured Product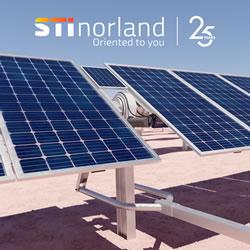 Developed in 2017, the STI-H250™ is consists of two linked torsion beams that rotate simultaneously following the sun's path. They are moved by just one motor, cutting supply and maintenance costs. STI-H250™ dual-row tracker includes backtracking mode to avoid shadowing between adjacent rows and stow function to protect the tracker in extreme wind conditions. For cleaning, vehicles can pass between trackers and each row can be placed in a different position.