CleanLaunch: Igniting clean technology start-ups
July 17, 2009 - Denver, Colorado— A dynamic group of business and government leaders has formed the CleanLaunch Technology Incubator, designed to serve entrepreneurs developing new technologies and to develop and nurture start-up clean tech companies throughout the region.

The public-private partnership, founded by automotive giant Burt Technologies, www.burt.com, accounting firm Clifton Gunderson www.cliftoncpa.com, Fairfield and Woods, P.C. www.fwlaw.com, and the South Metro Denver Chamber of Commerce www.bestchamber.com, with the assistance of the U.S. Department of Commerce/EDA, was created to stimulate the development and success of early-stage companies that will provide the next generation of clean, renewable, and efficient energy technologies.
"CleanLaunch helps companies assemble solid management teams, develop their value proposition to secure adequate funding, and accelerate the commercialization of sound product ideas into the marketplace," said Stephen Miller, CleanLaunch President/CEO. "Clean tech entrepreneurs will fuel new technologies and new jobs for the region's new energy economy."
Incubator clients can be either "resident" or "virtual," allowing CleanLaunch to serve companies in any location and at any stage of growth. Both are served by a Board of Advisors unique to each client, recruited from among the region's best business, scientific, and legal minds.
Resident clients enjoy interaction with other entrepreneurs along with turn-key offices that include fully furnished suites at a rate far below market. Office suites are currently available at Stapleton, and both office and office/flex/industrial space will soon be available in Jefferson County. Virtual clients have the flexibility to take on as little or as much space as they need anywhere in Colorado, while still enjoying expert advisory services.
According to Denver Attorney John Leonard, Fairfield and Woods jumped at the opportunity to invest in CleanLaunch. "Our firm works with entrepreneurs to help them with the legal aspects of financing companies, running companies and selling companies. Our involvement with CleanLaunch gives us a chance to do what we do best in an important industry for Colorado. We believe that by working with CleanLaunch's wide network of contacts and advisors, Colorado can become a world leader in clean energy, create and attract jobs to the state, and accelerate the transfer of technology out of our universities and labs to the international market. We appreciate the help state, local and the federal government has provided and believe that CleanLaunch is a great example of how public and private entities can work together on a common goal."
CleanLaunch is the legacy of a group of technology incubators with a long and successful history assisting entrepreneurs that began in 1989 with the launch of the Boulder Technology Incubator (BTI), and includes Denver Ventures at Stapleton (CTEK Stapleton) and the Longmont Entrepreneurial Network. Over the years, the incubators have amassed a network of over 1,000 senior level business advisors that volunteer their time to assist early-stage companies. Through this network and with the help of sponsors, the affiliated entities have assisted more than 500 start-up and early-stage companies.
CleanLaunch's first client company is Bye Energy. Bye Energy is in the process of developing two clean technology applications for use in the aviation field—an advanced electric propulsion system and a renewable plant-based feedstock fuel source.
CleanLaunch will be working cooperatively with numerous industry partners including NREL, the Governor's Energy Office, the Colorado Renewable Energy Collaboratory (Colorado State University, Colorado School of Mines, University of Colorado), CORE, and the Colorado Clean Tech Industry Association to further the advancement of clean tech in Colorado.
# # #
Featured Product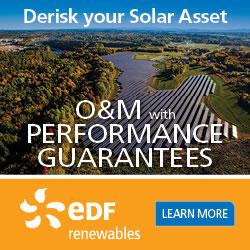 EDF Renewables offers the same innovative solutions that maximize the performance of our own 5.2 GW of installed projects. Because we're not an equipment manufacturer, our recommendations are transparent and data-driven. We cover the entire project lifecycle: from pre-commissioning support, through warranty and post warranty operation, to late stage and decommissioning.