Highly successful inaugural year prompts further expansion of PV-curriculum and training opportunities
Dublin (Georgia) February 15, 2012.—MAGE SOLAR ACADEMY, part of the globally operating MAGE GROUP, announced that it will dramatically increase and broaden course offerings in its second year of operation.

Based on the great demand for quality training in the fast growing PV-industry, MAGE SOLAR ACADEMY opened its doors nearly 18 months ahead of schedule in January of 2011 as an independent subsidiary of MAGE SOLAR. The 10,000 square foot state-of-the-art facility quickly became a sought-after destination for students from across the nation and the world looking to enter the photovoltaic industry or develop their skills in this highly-competitive market. Since MAGE SOLAR's recent expansion to Latin America and the Caribbean, students from these regions are regularly among the attendees, but actually hail from as far as Asia.
Now MAGE SOLAR ACADEMY has begun to follow through on its ambitious plans for 2012 and is ramping up an impressive extension to its current curriculum. Course content has been adjusted to be in accordance with the 2011 National Electrical Code that NABCEP recently adapted for exams. Teaching units centering on practical instruction in the academy's indoor/outdoor simulation areas will be extended to optimally reflect the great variety of most common PV-applications.
Additionally, a host of new classes and courses is geared to cater not only to installers, but supporting services as well. Marketing specialists, technical salesmen, and building inspectors, just to name a few, will also be able to enroll in more specialized solar courses—at very competitive prices.
"Our main prerogative is up-to-date quality instruction across the entire PV-continuum," says MAGE SOLAR ACADEMY President Joe Thomas. "As the industry is looking at another year of rapid expansion with double digit growth rates, we've seen a tremendous increase in the demand for not only excellently trained installers but most other players in the industry as well. Another emphasis our 2012 course catalogue reflects is the need for a broader implementation as more and more professions are becoming more exposed to solar in one way or another."
Besides a commitment to excellence in instruction for PV-professionals and related career paths, MAGE SOLAR ACADEMY has also garnered accolades when it comes to workshops and seminars for communities, laypersons, and schools. The new MAGE SOLAR ACADEMY calendar boasts a multitude of non-professional opportunities to learn more about solar energy and sustainable practices.
"The need for solar education extends to all parties involved and doesn't stop at the consumer," adds Joe Thomas, President of MAGE SOLAR ACADEMY. "The more informed all participants are, the more successful the industry is as a whole."
Students who are interested in attending MAGE SOLAR ACADEMY should contact msa@magesolaracademy.com or call +1 (877) 311-6243 for more information on course offerings and available class dates.
+++++
We would appreciate a sample copy of any reprints.
MAGE SOLAR ACADEMY
MAGE SOLAR ACADEMY, located at the American corporate campus of MAGE SOLAR in Dublin, Georgia, is a premier educational arena for professionals of all levels and occupations in the expanding PV-market. A subsidiary of the international MAGE SOLAR GROUP, the academy boasts over 10,000 sqf of state-of-the-art educational technology, indoor/ outdoor training and simulation areas.
www.magesolaracademy.com
MAGE SOLAR – The Sun on Your Side
MAGE SOLAR USA, headquartered in Dublin, Georgia, specializes in complete solar systems and provides high-quality photovoltaic modules, intelligent mounting systems and high-performance brand inverters. As a subsidiary of the international MAGE GROUP, it uses the Group's 40 years of know-how to develop optimally coordinated system solutions. A competent partner network guarantees profitable solar energy systems for customers throughout the Americas and in fourteen more countries in Europe, Asia, Africa, and Australia.
www.magesolar.com
www.facebook.com/magesolar
www.twitter.com/mage_solar
Featured Product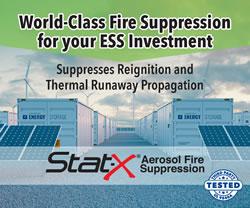 Stat-X® condensed aerosol fire suppression is a solution for energy storage systems (ESS) and battery energy storage systems (BESS) applications. Our Stat-X condensed aerosol fire extinguishing product was tested for efficacy in suppressing li-ion battery fires. It was found that the product successfully extinguished single and double cell battery fires. This testing was conducted in parallel with a large battery fire testing program on behalf of a large energy storage company.