The Gasplasma® process delivers higher energy efficiency than alternative waste-to-energy processes. Converting waste to a gas to generate electricity directly in gas engines, turbines or fuel cells dramatically improves energy conversion efficiency and maximises electrical output.
Gasplasma® Technology
Rolf Stein | Advanced Plasma Power
How does the Gasplasma® technology work?
APP has developed the Gasplasma process, a clean, modular and scalable advanced waste-to-energy and fuels technology which delivers high efficiencies whilst minimising visual and environmental impact. The core Gasplasma® process is a unique internationally patented two stage Advanced Conversion Technology (ACT) which converts waste into a very clean, hydrogen-rich synthesis gas (syngas). It combines established and well proven technologies in a novel way.
The first stage is a Fluidized Bed Gasifier (FBG) which transforms the organic materials in the Refused Derived Fuel (RDF) feed into a crude syngas containing tars and chars. It does this by heating the RDF to a high temperature, around 800oC, in a highly controlled reduced oxygen environment. The crude syngas is then passed into a separate, secondary Plasma Converter (PC). The intense heat from the plasma arc and the strong ultraviolet light of the plasma 'cracks' the crude syngas. The cracking creates a clean syngas, whilst the bottom ash from the gasifier is vitrified into a product called Plasmarok®. The syngas is then cooled, cleaned and conditioned through wet and dry scrubbers before being used directly in a Power Island to generate renewable energy on a highly efficient basis. Residual heat is also recovered from the process to be used in CHP mode within the process itself as well as for other users in the vicinity.
The cleaned syngas is used in a Power Island, consisting of reciprocating gas engines or gas turbines, to generate renewable power. Looking ahead the power island will comprise fuel cells and the syngas will be used to create synthetic natural gas or gaseous or liquid transport fuels.
Who developed the technology – is it a new process?
The Gasplasma® process is a unique combination of two long standing technologies, both of which have years of proven commercial activity. APP's sister company, Tetronics, is a world leader in plasma arc technology and has a long and successful history using their patented plasma technology - which is a key component in APP's Gasplasma® process - in over 80 installations around the world. Tetronics' plasma-arc technology has been used for a range of applications, including hazardous waste treatment and metal recovery.
The Fluidized Bed Gasifier which transforms the organic materials in the Refused Derived Fuel into a crude syngas, a core stage of the Gasplasma® process, has been successfully proven by APP's supplier a North American company, in more than 100 fluidized bed energy systems providing over five million hours of operating experience.
What are the benefits of Gasplasma® over other waste-to-energy technologies?
The Gasplasma® process delivers higher energy efficiency than alternative waste-to-energy processes. Converting waste to a gas to generate electricity directly in gas engines, turbines or fuel cells dramatically improves energy conversion efficiency and maximises electrical output.
The Gasplasma® process also presents a means of managing waste and producing energy with minimal impact on the environment. The process enables maximum landfill diversion. In addition to the hydrogen rich syngas, the process produces an inorganic solid which has applications as a high-value construction material and can therefore be sold as a product rather than being sent to landfill. This removes any environmental, regulatory and commercial risk stemming from concerns over the eco-toxicity of bottom ash produced by incinerators and other thermal processes. Emissions from the Gasplasma® process are well within the EU's Industrial Emissions Directive and compare very favourably with those produced by incineration plants. When producing gaseous or liquid biofuels, there are no local emissions to atmosphere.
At what stage of development are you with your process - i.e. research, pilot projects etc?
APP has a plant operating in Swindon, UK where a significant variety of feedstocks have been tested. A gas engine has been operating on waste derived syngas produced by the plant since 2008. APP currently has around 10 projects in the pipeline, at various stages of the development process. These include the world's first landfill mining project at Houthalen-Hechteren in Belgium. This project will take some 16 millions tonnes of landfilled waste and convert it into valuable recyclates and clean energy for the local community. Over the next twenty years this project will see this landfill site returned to its original state.
What does the waste-to-energy industry need from governments in order to kick start energy production and where is the best example of this happening now?
Private sector investment is crucial to developing both the technology and the infrastructure necessary to deliver large-scale, efficient and low impact waste to energy projects. Uncertainty over the return on investment in clean energy technologies has long acted as a barrier to investment from the private sector; governments have a role to play in encouraging investment, both through guaranteeing the price of renewable energy and in diverting investment away from other, less environmentally sound, waste-management options.
A good example of how both of these mechanisms can work can be seen in UK. On the one hand there is the Renewable Obligation Which obliges energy producers to generate a certain proportion of their energy from renewable sources. Renewable Obligation Certificates are then awarded according to how much renewable energy is produced, and these can then be sold to companies who produce less renewable energy in order to meet the required levels. This system offers investors in renewable energy technologies a secure return in that the minimum buy out price is underwritten as is the duration of the scheme. The renewable energy sector is awaiting confirmation of revised bandings at which these certificates are awarded. Under current proposals, advanced ACTs employing gas engines, such as the Gasplasma® process, will continue to be awarded 2 ROCs per megawatt hour of renewable electricity produced. To incentivize a move away from landfill, the UK government has been taxing landfill on the basis of a tax which has been increasing at the rate of £8 per tonne per year. The landfill tax is due to reach £80 per tonne in 2014.
What would you consider to be the ideal size and situation for the effective development of a waste-to-energy project?
Waste-to-energy technologies such as the Gasplasma® process offer the greatest benefits when located close to urban populations. Not only does this secure a steady supply of waste, but situating such a plant close to a waste source also reduces the number of miles waste must be transported before it can be treated – further decreasing the carbon footprint of its management. Moreover, locating a waste-to-energy plant close to heat users allows heat to be recovered delivering maximum possible efficiency.
Gasplasma® plants have a very low visual impact making them ideal for locations close to cities and local communities. A typical Gasplasma® plant is around 15m high, meaning that it can fit into a standard warehouse similar to those seen in edge-of-town business parks. When producing power on site in engines or turbines, emissions from the plant are very low allowing for a stack of only some 10 metres above the height of the building. When producing gaseous or liquid biofuels, there are no local emissions. This low environmental impact means that a plant can be located, unobtrusively, within city limits, taking waste from that city and supplying power and heat (or fuel) in return.
Does the technology have any other applications, aside from generating energy for immediate use?
The potential for the Gasplasma® process as a gateway technology is enormous. APP recently announced a project with transmission network provider National Grid to develop and demonstrate an end-to-end process that will use Gasplasma® technology to produce bio-substitute natural gas (Bio-SNG) for injection into the national gas grid. Another key area for development is the use of fuel cells to produce electricity either directly from the syngas produced by the Gasplasma® process or from hydrogen (or bioSNG) derived from the syngas. APP is working with a number of partners to demonstrate these alternative uses.
To what scale can Gasplasma® operate?
The Gasplasma® process is fully scalable. A standard Gasplasma® facility accepts 150,000 tonnes of residual Municipal Solid or Commercial & Industrial Waste a year, enough to produce around 90,000 tonnes per annum of refuse derived fuel. This is enough to generate renewable power for around 17,500 homes, and residual heat for an additional 700. However, the technology can be supplied in multiple units to process higher quantities of waste, depending on the size of the community it serves.
Biography – Rolf Stein, CEO of Advanced Plasma Power
Rolf Stein is Chief Executive Officer of Advanced Plasma Power (APP), a world leader in advanced waste-to-energy and fuels technology. Rolf has worked for APP since 2006. Prior to his appointment as CEO he was Chief Operating Officer for the company. He joined APP as Commercial Director with a particular focus on securing and commercialising the Company's intellectual property portfolio. Before working in this industry, Rolf had extensive international experience holding senior positions in large multi-national technology companies including Hewlett Packard and Apple. Rolf has a law degree from the University of Warwick and is qualified to practice law in both the UK and Germany.
The content & opinions in this article are the author's and do not necessarily represent the views of AltEnergyMag
---
Comments (0)
This post does not have any comments. Be the first to leave a comment below.
---
Post A Comment
You must be logged in before you can post a comment. Login now.
Featured Product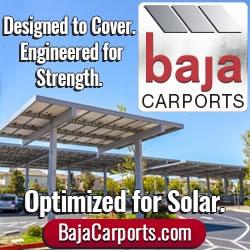 Baja Carports offers an extensive solar support system product line customized to customers' site specifications by in-house engineers, meeting their parking lot coverage, plus optimal PV production needs. Baja's Full Cantilever Tee is often paired with its Semi and Full Cantilever carports to meet live/loads up to 60psf and wind speeds to 160mph. All Baja products are pre-fabricated, bolted connections, pre-galvanized structural steel for fast on-site installation and project aesthetic requirements."