Expanding Global Reach of Innovative Solar Solutions
TUCSON, Ariz., March 6, 2012. Microsol, a United Arab Emirates (UAE) based cell

manufacturer, has acquired essential components of the insolvent SOLON SE and its
subsidiaries, including U.S. based SOLON Corporation. With the formation of SOLON Energy
GmbH as the core of the new group, an integrated solar solutions provider has been established
with a strong presence in the leading and emerging photovoltaic markets. The combined
companies believe that through this strategic partnership they can offer high quality costefficient
solar products and implementation services. About 600 jobs worldwide have been
transferred from the insolvent SOLON SE (including subsidiaries) to the new SOLON Energy
GmbH and the other affiliates. The main sites in Berlin-Adlershof (Germany), Tucson (USA) and
Carmignano di Brenta (Italy) will be maintained. The purchase price was not disclosed by the
contract partners; an approval by Italian authorities is still pending.
Microsol cost effectively produces high-efficiency solar cells with around 325 employees in
Fujairah (UAE). Prior to the acquisition, Microsol enjoyed good prospects for further growth in its
core Arab and Asian markets, with special emphasis on India. The acquisition of SOLON allows
the extension of the range of specialized product innovations and access to the European and
North American markets. In addition, SOLON's strengths in the power plant business, in
research and product development, and marketing and distribution are being regarded as
particularly valuable by Microsol. Solar power systems will continue to be produced in Germany
and the U.S., and production facilities will come on line at Microsol's home base in Fujairah
(UAE) in the course of this year.
The international position, the excellent staff structure and the product innovations of SOLON
complement perfectly with the strengths of Microsol. "This is a joining of two ideal partners. As
shareholders, we will pursue an international growth strategy together with SOLON, which will
open up enormous market potential," said Anjan Turlapati, chairman of Microsol.
India will be a key growth market for the SOLON group. "Because of the favorable political and
economic circumstances, there is great potential for the power plant businesses. Microsol's
market access combined with SOLON's module, balance of system, and power plant expertise
provide us with excellent prospects in India," said Mr. Turlapati.
The U.S. will continue to be a strategic growth market for SOLON. "SOLON has established a
strong presence in the U.S. market," continued Mr. Turlapati. With our existing market
leadership position, access to low cost, efficient cell and module facilities, and expertise in
providing complete system solutions for the commercial and utility-scale markets, we have
great growth potential in the U.S."
"Microsol's acquisition will provide SOLON the backing needed to continue our robust
expansion in the U.S.," said Dan Alcombright, president and chief executive officer of SOLON
Corporation's North American operations. "SOLON is the antidote to the recent phenomenon of
solar companies failing today, and shows how new product innovation, such as our SOLquick
commercial rooftop product, can create value and green technology jobs."
About Microsol:
Microsol, through its wholly owned subsidiary in the UAE, manufactures high-quality cost-effective
crystalline solar cells. Established in 2003 by photovoltaic engineers with over 25 years of experience in
the solar industry, Microsol currently employs around 325 production and support staff for a production
capacity of 150 MW, expanding to 225 MW during 2012.
About SOLON Corporation:
SOLON Corporation (www.SOLON.com) is a leading provider of utility-scale and large commercial photovoltaic
(PV) system solutions to the North American market. SOLON delivers complete and cost-effective turnkey PV
systems to its partners with a streamlined approach from project development, design and construction to
financing and operation. With NA headquarters in Tucson, AZ and offices in Phoenix and San Francisco,
SOLON is driven by a passion for innovation and a commitment to providing superior solar solutions with
unrivalled quality and reliability. Founded in 2007, SOLON Corporation is a subsidiary of the SOLON Group, a
leading international provider of solar solutions for residential, commercial and utility-scale applications. The
SOLON Group operates subsidiaries in Germany, Italy, and the U.S. with more than 600 employees worldwide.
For more information, visit www.SOLON.com
Featured Product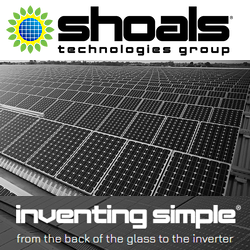 Inventing Simple® isn't just a slogan to us, it's a way of life. Using simple plug-and-play ideology, we revolutionized solar installations in 2003 with our Interconnect System™. Our harnessing system is now the gold standard EPC's use around the world. By using simple ideas, we are making solar energy a more affordable and clean power source for future generations.