 Global solar leader at the fourth Solar Power International show, to be held in Orlando, Sept. 10-13
Orlando, September 4, 2012 – ISOFOTON, global leader in solar technology, announces the opening of its new manufacturing facility in Napoleon, Ohio, which is scheduled to start production in November. The plant has an initial capacity of 50-megawatts, with designs for expanding to up 300 MW. The announcement will be made at the Solar Power International event, to be held in Orlando. ISOFOTON, a global energy technology company with more than 30 years of experience in the photovoltaic industry, will be presenting details of its new business projects in the U.S. market, including the new facility in Napoleon. The plant will initially employ 120 people and as much as 330 when it reaches full capacity. Isofoton also plans to focus on hiring Ohio's returning military veterans and provide them with an opportunity to employ their skills and experience.

According to Ángel Luis Serrano, Isofoton's Chief Executive: "We have developed a sound plan for growth in the U.S., a country that will lead the photovoltaic industry over the next ten years. Isofoton North America's new Ohio manufacturing facility is an example of our commitment to the U.S. market, and benefits from the support of key partners, including Samsung, Mercedes AMG, Posco, as well as our highly productive R&D and economic development partnership with the University of Toledo, Ohio. Our goal is to position Isofoton North America as a strong alternative source of clean and affordable energy to meet the growing energy independence demands of the dynamic U.S. market".
Solar Power International will be held from September 10th to 13th in the Orange County Convention Center, Orlando, Fla., the second largest USA convention center. Solar Power International is the major trade event for the U.S. solar industry, and one of the most important in the world, with 1,200 exhibitors and more than 21,000 visitors from 125 countries. Former U.S. President, Bill Clinton, will be the keynote speaker on Wednesday, September 12th.
Isofoton will be at Stand 2930 at the Orange County Convention Center, displaying its solar energy solutions in the areas of:
High-efficiency projects: Isofoton is one of a very few companies pioneering the production of high concentration photovoltaic systems. Isofoton's HCPV GEN2 modules generate highly efficient energy in warm weather areas with high levels of direct solar light.
"Ferrolinera" system: A pioneering technology research project on sustainability and energy efficiency to install charging stations for electric cars at train stations, using photovoltaic solar energy and energy recovered from the trains' traction and braking. Isofoton is collaborating with ADIF on this project, the national Spanish railway network company.
Isofoton plans to become a leader in solar technology solutions for electric vehicles, having recently signed a strategic agreement with the MERCEDES AMG PETRONAS Formula One team. Under this agreement, Isofoton has created task forces with Mercedes-Benz to explore opportunities to collaborate in solar projects. The agreement also gives Isofoton's logo premier placement on the helmets of MERCEDES AMG PETRONAS Formula One drivers Michael Schumacher and Nico Rosberg.
Isofoton which has developed and supplied solar 1,000 projects in 60 countries is one of the largest investors in research and development in the photovoltaic sector, and is currently participating in 14% of the solar energy projects under development in Europe according to EU data.
Isofoton's plans for global growth are founded on its unwavering commitment to innovation and R&D, on investment in manufacturing facilities at end-markets, and on forging strategic alliances with prestigious companies such as Samsung, Posco Plan Engineering and Mercedes AMG Petronas. Isofoton's CEO, Angel Luis Serrano, recently announced a €40M investment from Samsung for its Malaga, Spain, facility aimed at increasing production capacity and improving technological efficiency. Strengthening its position in key solar energy markets, ISOFOTON has already agreed to build a 50 MW photovoltaic power plant in the Dominican Republic and plans to inaugurate another in Ecuador in the near future.
ABOUT ISOFOTON
ISOFOTON is a global company present in more than 60 countries. It is a pioneer and leader in the design, manufacture and supply of solar energy solutions, and is committed to the planet's sustainable development. The company focuses on the technological areas of photovoltaics and high-concentration photovoltaics.
Featured Product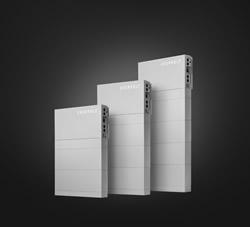 Renewable energy stored in an EVERVOLT home battery system is the perfect backup plan against an uncertain utility grid and weather events. Run key appliances longer and live life when the unexpected happens. EVERVOLT battery storage systems are covered by a complete 12-year warranty from Panasonic.