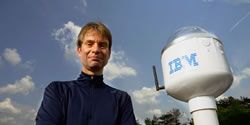 While other solar forecasting systems take more narrow location and timeframe views, what's different about the IBM approach is that we incorporate a great number of weather and solar energy prediction models. We then blend those using historical data as a function of weather situation, forecast horizon and location to create what we call a supermodel.
Makes Solar Forecasts Available to States to Advance Integration of Solar Power into the Nation's Energy Pipeline
Records 1 to 2 of 2
Featured Product
The sonnenBatterie eco is a fully-integrated, all-in-one residential energy storage solution that utilizes intelligent energy management software and lithium-ion batteries to turn houses into smart energy homes. The system is available in a variety of storage capacities and configurations, allowing for extensibility and expansion and integrates with new and existing PV systems. The sonnenBatterie eco allows customers to save money every single day by storing excess energy generated by solar PV systems and using the stored energy from the battery to power homes when the utility rates are more expensive or when the grid is out of service in addition to enabling customers to go off-grid.