Solectria Renewables, top notch designers and sellers of PV inverters, appoints two experienced sales members to support new & current customers in CA and Western states.
Lawrence, MA. (September 19, 2006) Solectria Renewables, LLC has announced the appointments of Bernie Kotlier as Director of Business Development, Western Region, and Allison Duffy as Territory Manager, Southern California.

Based in San Jose, CA, Kotlier assumes immediate responsibility for directing the development of Solectria Renewables' residential and commercial photovoltaic inverter business in the West. Kotlier has more than 20 years experience building domestic and international distributor and dealer networks, and has a strong commitment to energy independence and the fight against global warming.
Based in Sunset Beach, CA, Allison Duffy is responsible for distributor and installer business development and support in the the greater Los Angeles and Orange County market. With a family business background in electric vehicles, and a masters degree in environmental science, Duffy shares Solectria Renewables' determined support for renewable energy and the environment.
"The appointment of Bernie and Allison underscores our strong commitment to growing the market for Solectria Renewables' photovoltaic inverters in California and throughout the Western US," said James Worden, CEO of Solectria Renewables. "Their combined experience brings new depth to the Solectria Renewables team for the benefit of our industry partners and customers," he added.
"Solectria Renewables is a U.S. manufacturer that developed its rugged, durable and highly efficient inverter technolgy in the crucible of 16 years of hard commercial vehicle use. The company has integrated their proven, robust technology with leading edge designs for residential and commercial PV applications. As you can imagine, Allison Duffy and I are very pleased to join the Solectria Renewables team just as the PV solar market is poised for substantial growth in California and the West", said Kotlier.
Solectria Renewables, LLC, of Lawrence, Massachusetts, is a leading designer and manufacturer of premium efficiency, high reliability photovoltaic power electronics and systems for renewable power generation. It offers a wide range of inverters for renewable power applications, including 1.8kW to 95kW grid tied PV inverters for systems from 1kW to 1MW. The company also offers engineering services for renewable power systems and distributed power generation.
For more information visit: www.solren.com
http://www.solren.com/news/press.html
Media contact: James Worden, Solectria Renewables, tel.: 978-683-9700 email: james@solren.com
Bernie Kotlier, Business Development, West Coast, Solectria Renewables, tel.: 408.729.1110; cell: 408.242.4000 email: bernie@solren.com
Allison Duffy, Territory Manager, Southern CA, Solectria Renewables, tel.: 562.237.0377 email: allison@solren.com
Featured Product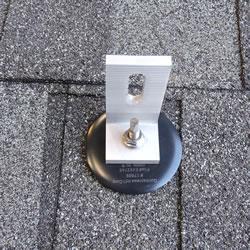 SolarRoofHook's Low Profile QuickBOLT with Microflashing™ is the industry's affordable, UL Certified Asphalt Shingle mounting system. The Microflashing™ is compressed by the collar on the bolt to create a water-tight seal. With an installation time of less than one minute, the Low Profile QuickBOLT allows installers to complete more jobs.