LIPA Rule Change Allows SolarCity to Offer Solar Power on Long Island for as Little as $39 Per Month, Create Jobs with New Location in Hauppauge
HAUPPAUGE, N.Y.--For less than the price of a tank of gas, Long Island homeowners can now go solar. A recent Long Island Power Authority (LIPA) ruling allows SolarCity® (Nasdaq: SCTY) to provide solar electricity directly to Long Islanders starting for as little as $39 per month, and significantly decrease their energy costs. SolarCity allows customers to immediately pay less for solar electricity than they pay for utility bills, and lock in lower rates to protect themselves from utility increases in the future.

"Long Island is one of the most affordable places in the country to go solar," said Ed Steins, SolarCity's Northeast Regional Vice President. "SolarCity allows local homeowners to lock in rates for clean electricity and save on monthly utility bills."
This new solar option is due in large part to the work of Governor Andrew Cuomo and the state legislature. The NY SUN Initiative, led by Gov. Cuomo and enacted by the Public Service Commission in April of 2012, initiated a new era of solar development in the state. Last week in his State of the State address, Governor Cuomo solidified New York's commitment to NY SUN, which aims to quadruple the state's customer-sited solar in 2013 and paves the way for SolarCity to provide clean energy options broadly across the state.
SolarCity recently opened its third New York location in Happauge, and currently employs over 100 New Yorkers among its Albany, Westchester County and Long Island offices. Candidates interested in available employment opportunities in New York can contact SolarCity via its online jobs form at www.solarcity.com/jobs.
"We're excited to be building the clean energy economy in Long Island," said Steins. "Our New York expansion is bringing new local jobs, including positions as installers, engineers, electricians, project managers and salespeople."
Homeowners in the New York metro area who are interested in SolarCity's services can contact the company directly at 1-888-SOL-CITY (1-888-765-2489) for a free, no-obligation solar consultation or visit SolarCity online at www.solarcity.com/request.
About SolarCity
SolarCity® (NASDAQ: SCTY) provides clean energy. The company has disrupted the century-old energy industry by providing renewable electricity directly to homeowners, businesses and government organizations for less than they spend on utility bills. SolarCity gives customers control of their energy costs to protect them from rising rates. The company offers solar power, energy efficiency and electric vehicle services, and makes clean energy easy by taking care of everything from design and permitting to monitoring and maintenance. SolarCity currently serves 14 states and signs a new customer every five minutes. Visit the company online at www.solarcity.com and follow the company on Facebook & Twitter.
Featured Product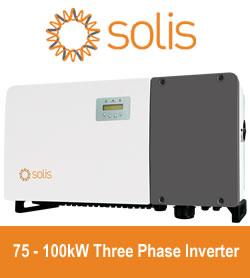 Solis75kW - 100kW series high-power string inverters are widely used in industrial and commercial rooftops. Solis's new three-phase string inverter is the first choice for industrial and commercial photovoltaics. 75-100kW three phase series string inverter have Maximum 28 strings input, support "Y" type connection in DC side. Maximum string input current 13A, support bifacial modules access.Supports anti-PID function to improve system efficiency.