Energy brokerage company, Alternative Utility Services, Inc. (AUS) now licensed to offer natural gas services in Maryland.
August 11, 2014 – Alternative Utility Services, Inc. (AUS) has been issued a license by the Public Service Commission of Maryland under license reference number IR-3334. The license grants AUS the right to provide natural gas supplier broker services for residential, commercial and industrial customers in Maryland.

"AUS is a company that prides itself on operating under the highest standards of ethics and accountability," said Fritz Kreiss, president of AUS. "We make certain that AUS is in full compliance with all PSC requirements to remain in good standing in every state we offer services. This license is demonstrative of our continued compliance."
AUS is also licensed to supply electric generation services in Maryland under license reference number IR-2579.
Licensing of alternative suppliers is required by the public service commissions (PSCs) of all deregulated states. In some states, the brokers and consultants that work with them are also required to be licensed. Alternative Utility Services complies with all PSC requirements and remains in good standing in the states in which the company operates. A complete disclosure of the company's licenses and memberships can be viewed on their website, AUSenergy.com.
Alternative Utility Services, Inc., was established in 1993. It is a licensed energy consulting company providing natural gas services nationwide. AUS provides a wide range of professional procurement and consulting services including electric, aggregation, residential, reverse auction, demand response, auditing and benchmarking. 800-392-4287 www.ausenergy.com
Featured Product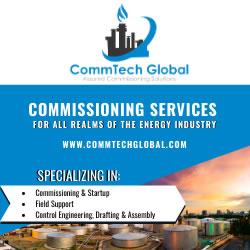 CommTech Global Solutions, LLC, provides professional and reliable commissioning services to customers in all realms of the energy industry. We blend our skills in engineering and technology with innovative business models, offering a complete range of services to assist you for a successful and in compliance operational startup. Consolidation of all our service domains gives our clients a comprehensive set of expertise and far-reaching experience on each project.