Maxwell Technologies will be sponsoring and presenting at the Advanced Capacitor Summit Conference Next Week in San Diego.
Who and What

At the Capacitor World Summit next week, Dr. John M. Miller, the vice president of advanced transportation applications for Maxwell Technologies, will speak about Maxwell's ultracapacitors as they are being applied to the automotive industry. His speech titled, "2006 Capacitor Update," will discuss the progress that has been made in hybrid technology and provide predictions on future progress. It will:
 Present a brief history of hybrid electric vehicles
 Provide comments on the world liquid fossil fuel situation
 Discuss micro, mild, and strong hybrids
 Give an overview of plug-in hybrids
 Describe energy storage systems that combine batteries and ultracapacitors
 Offer a glimpse on how Maxwell's technology will be used in the future
Also, Mike Everett, vice president and chief technical officer for Maxwell Technologies will be involved in a panel discussion. The topic titled, "What are the most important needs of the electrochemical capacitor industry and how best can they be satisfied?" will include executives from JME, Nippon Chemi-Con, and BEST.
When and Where
Advanced Capacitor World Summit: July 17-19
Wine & Cheese reception sponsored by Maxwell: July 17, 6 pm
Panel discussion: July 18, 12:15 p.m.
John Miller's presentation: July 18, 2:30 p.m.
Hilton San Diego Resort - San Diego, Calif.
Why
Today, the automotive battery is being burdened as never before with more and higher powered electrical functions; the vehicle it services is becoming a silicon rich environment. With microcontrollers installed in nearly every niche in the automobile, the need for smooth and stabilized voltage from the electrical distribution system is fundamental to ensuring long and stable performance. Low end hybridization in the form of idle stop and energy recuperation systems are adding incremental fuel economy and helping meet tighter emissions requirements. All these intermittent and higher power functions are debilitating to the battery and are better served by battery and ultracapacitor combinations.
About Dr. John M. Miller
Dr. John M. Miller joined Maxwell in December 2005, assuming primary responsibility for developing and promoting ultracapacitor-based solutions for the automotive and heavy vehicle industries. Previously, he spent 18 years in a series of engineering and research and development positions with the Ford Motor Company, where he led several Ford automotive electronics and electric and hybrid drive train development programs before taking early retirement in 2002. Immediately prior to joining Maxwell, he spent three years as an industry consultant, author and guest lecturer. He holds 50 patents and has written more than 100 scientific and technical papers and three books, including Hybrid Vehicle Propulsion Systems, which was published in 2003. He holds a BS degree from the University of Arkansas, an MS degree from Southern Methodist University and a doctorate from Michigan State University, all in electrical engineering.
About Mike Everett
Mike Everett joined Maxwell in August 2002, assuming responsibility for Technology Systems, including product assurance and multiple systems engineering groups. In December 2005, he was appointed Chief Technical Officer. Before joining Maxwell, he spent seven years overseeing product development for 3D Systems Inc., a California-based technology company that designs and manufactures three-dimensional imaging systems. Over a 16-year engineering career, Mike has been responsible for all levels of new product development, primarily focused on systems engineering.
About Maxwell Technologies
Maxwell is a leading developer and manufacturer of innovative, cost-effective energy storage and power delivery solutions. Our CONDIS® high-voltage grading and coupling capacitors help to ensure the safety and reliability of electric utility infrastructure and other applications involving transport, distribution and measurement of high-voltage electrical energy. Our BOOSTCAP® ultracapacitor cells and multi-cell modules and POWERCACHE® backup power systems provide safe and reliable power solutions for applications in consumer and industrial electronics, transportation and telecommunications. Our radiation-mitigated microelectronic products include power modules, memory modules and single board computers that incorporate powerful commercial silicon for superior performance and high reliability in aerospace applications. For more information, please visit our website: www.maxwell.com.
For more information contact:
Mike Sund Bonnie Anderson/Jessica Roeber
Maxwell Technologies Bell Pottinger USA
VP, Communications and Investor Relations (617) 210-4755
(858) 503-3233 banderson@bellpottingerusa.com
msund@maxwell.com jroeber@bellpottingerusa.com
###
Featured Product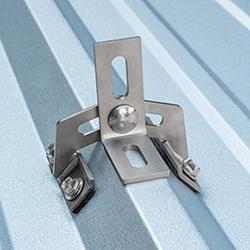 Explore new lines of income for your solar installation business with QuickBOLT's Stone Coated Steel roof mounts designed in partnership with metal roof manufacturers themselves. These SCS roof mounts work on all metal tile profiles and will help you bring in money you're missing out on. By not driving into the roofing material, QuickBOLT's Stone Coated Steel roof hooks maintain the integrity of the roof. Install with ease and confidence knowing your roof is protected against the harsh elements that these hooks are designed for.