With more than 6 million panels cleaned, the E4 solution significantly and cost-effectively improves solar plant output
HERZELIYA, ISRAEL – March 10, 2015 – Ecoppia, an innovative developer of robotic, water-free photovoltaic (PV) solar panel cleaning solutions, announced today that its E4 robotic cleaning solution has been officially certified for long-term use by Trina Solar, a global leader in PV modules, solutions and services. Trina Solar is the latest to validate E4's performance, with previous certification by panel producers JA Solar and Suntech, as well as by the Photovoltaik Institut Berlin (PI Berlin), one of the world's most respected independent PV technology testing laboratories. Additional certifications are underway, with the aim of ensuring Ecoppia's market–wide compliance with the stringent standards of all major panel manufacturers

Ecoppia's patented E4 system cost-effectively removes 99 percent of solar panel dust through a daily, automated operation. Each robot is programmed through a real-time, web-based dashboard that enables remote management and monitoring to aid system owners in achieving optimal energy production levels at all times. With up to 35 percent loss in energy production caused by soiling, Ecoppia provides a profitable cleaning solution for solar panels —without wasting valuable water resources.
"Earning the trust of a respected organization like Trina Solar is further confirmation that our E4 system is the future in solar panel cleaning," said Eran Meller, CEO of Ecoppia. "We have designed the only solution that delivers immediate value and rapid ROI, all while protecting the most expensive component in a PV plant—the panels themselves."
Trina Solar certified Ecoppia's solution based on extensive simulation, which tested the equivalent of 20 years of daily cleaning, following which no impact on panels was noted. This certification clears the way for the Ecoppia system to be installed on Trina Solar panel arrays worldwide.
About Ecoppia
Ecoppia designs and produces innovative photovoltaic panel cleaning solutions to cost-effectively maximize the performance of utility-scale installations. The company's water-free, automated technology removes dust from panels on a daily basis to ensure peak output, even in the toughest desert conditions. Supported by a robust control unit, systems can be remotely programmed and managed to minimize O&M costs. Ecoppia is a privately held organization, backed by prominent and experienced international investment funds and led by a team of energy and robotics experts. For more information about Ecoppia please visit ecoppia.com.
Featured Product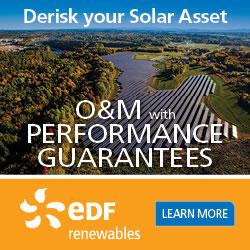 EDF Renewables offers the same innovative solutions that maximize the performance of our own 5.2 GW of installed projects. Because we're not an equipment manufacturer, our recommendations are transparent and data-driven. We cover the entire project lifecycle: from pre-commissioning support, through warranty and post warranty operation, to late stage and decommissioning.