JAKE LINGEMAN for AutoWeek: Aim for those bumps; save the planet. Audi is working on a new suspension system called eROT (electromechanical rotary damper) that turns the kinetic energy of damper travel into usable, fuel-saving power. "Every pothole, every bump, every curve induces kinetic energy in the car. Today's dampers absorb this energy, which is lost in the form of heat," said Dr. Stefan Knirsch, board member for technical development at Audi AG. "With the new electromechanical damper system in the 48-volt electrical system, we put this energy to use. It also presents us and our customers with entirely new possibilities for adjusting the suspension." The electromechanical dampers are arranged horizontally and feed electricity from the motion -- 100 to 150 watts on an average road during testing in Germany -- to a lithium-ion battery. A DC converter connects the 48-volt electrical subsystem to the 12-volt primary. Cont'd...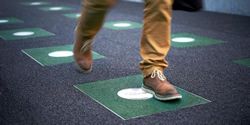 Kinetic energy is power that is gained from motion, and this motion can involve vehicles, individuals, and any other object.
Records 1 to 2 of 2
Featured Product
Soiling of the panel glass is one of the major problems in the rapidly expanding solar energy market, with the attendant loss of efficiency and reduction in performance ratios. Now, there's a new, simple and very cost-effective alternative. Based on Kipp & Zonen's unique Optical Soiling Measurement (OSM) technology, DustIQ can be easily added to new or existing solar arrays and integrated into plant management systems. The unit is mounted to the frame of a PV panel and does not need sunlight to operate. It continuously measures the transmission loss through glass caused by soiling, so that the reduction in light reaching the solar cells can be calculated.