The AltEnergyMag team had the opportunity to walk the expo floor and visit with companies from across the industry for a peak at some of the new products that will be showcased this year. Below is a compilation of some great new products that should be an interest to you.
2011 AWEA WindPower Conference & Exhibition Report
AWEA WINDPOWER 2011 Conference & Exhibition was held May 22 — 25, 2011 at the Anaheim Convention Center. The WINDPOWER Conference & Exhibition is produced by the American Wind Energy Association (AWEA) to provide a venue for the wind industry to network, do business, and solve problems. Recognized as one of the fastest-growing trade shows in the U.S, WINDPOWER includes Nearly 1,400 exhibiting companies, thousands of qualified wind energy professionals, engaging educational information and unmatched networking opportunities and special events.
The AltEnergyMag team had the opportunity to walk the expo floor and visit with companies from across the industry for a peak at some of the new products that will be showcased this year. Below is a compilation of some great new products that should be an interest to you.
---
Vergnet announced the launch of its US Subsidiary, Vergnet Americas. With more than 700 wind turbines on six continents, we specialize in distributed generation or "community wind", enabling our customers to harness wind energy for their local energy and fiscal needs. The GEV MP is a 275 kW wind turbine. It was first brought into commercial service in 2001, and since then has benefited from many enhancements to incorporate the latest technological developments in the industry.
---
Air temperature / relative humidity / air pressure / wind speed / wind direction / solar radiation. From the WS product family of professional intelligent measurement transducers with digital interface for environmental applications. Integrated design with ventilated radiation protection for measuring:
Air temperature
Relative humidity
Air pressure
Wind direction
Wind speed
Solar Radiation



---
Vestas has updated its 2 MW GridStreamer™ turbines to deliver significantly higher energy production, state-of-the-art grid compliance and a competitive cost of energy. Raising the bar for the North American market, the turbine is certified to the latest IEC standards and designed for UL and CSA compliance. The latest 2 MW GridStreamer includes an upgraded drivetrain, a next-generation load management system and a full scale converter-based power system. It offers an exceptional capacity factor, reaching rated power of 2.0 MW with a 90-meter rotor in sites with high wind speeds, and with a 100-meter rotor in low- to moderate-wind sites.
---
---
---
As higher power turbines using "in-line technology" grow in demand, the power converter unit is evolving to become a real "core" component of the turbine. Market pressures to reduce the installation cost per kWh and the trend in developing specialized components manufactured to specification brought Power-One to introduce the new Large Wind LWSI – 2.5MW inverter module. The LSWI – 2.5MW for large wind applications showcases Power-One's technical capabilities to enable the large wind turbine OEM's to achieve the highest flexibility they require for full conversion applications. This expandable modular system can be configured for larger wind turbines up to 10MW. Energy harvesting and reliability are the primary goals of our design team who have an arsenal of technological achievements that are deployed for designs that require liquid or air cooling, rugged environmental conditions, medium voltage or standard voltage applications. As the showcase for large wind applications, the LSWI-2.5MW inverter boasts an efficiency of 98.7%. The extremely rugged and integrated design of the inverter cabinet provides protection from water, oil and gas for both offshore and onshore applications. Utilizing state of the art power conversion, including 3-Level NPC topology using IGBT's, and vector control algorithm the LSWI-2.5MW provides a highly reliable and efficient power system.
---
---
GL Garrad Hassan's new WindHelm Portfolio Manager provides a single platform for the monitoring, optimization and control of any combination of operational turbines, farms and portfolios. It gives owners and operators uniform access to, and analysis of, their SCADA data. This facilitates intelligent operational decisions, therefore maximizing availability, efficiency, production and financial return. WindHelm was developed out of GL Garrad Hassan's leading independent SCADA product and so clients benefit from the related international consulting experience and can be confident of a robust and intelligent product, and world-class support. With a rich reporting environment and an advanced analysis engine, WindHelm enables clients to get real value out of their wind farm data. Experts from GL Garrad Hassan's SCADA and asset management and optimisation teams have worked together to offer a broad range of reports, based on their significant experience helping clients around the world to effectively manage and optimise their assets. WindHelm also offers the flexibility of user-defined reports for clients that would prefer to conduct their own advanced analyses.
---
Custom Resilience™ Wind Turbine Tray Cables are available design-to-ship 5 days or fewer. No minimum length or quantity. Quotes in 24 hours or less. UL and Wind Turbine Tray Cable 2277 (WTTC) approved and NFPA 79 (12.2.2) rated for constant flex. Highly oil resistant. Passes cold bend test to -40⁰C. FT4 flame rated.
---
The 50 kW model is an ideal power solution for applications requiring 200,000+ kWh of electricity annually. The PowerGenTM 50 kW has a single- or three-phase induction generator, allowing for direct connection to the grid without the need for costly and maintenance-heavy inverters. Equipped with remote monitoring software, the 50 kW has a vast swept area of 3,120 ft2 and is designed to last for 25- 30 years. Other features include:
Turbine configuration: 3 blades, horizontal axis, downwind
Rated power at 11 m/s: 55 kW
Main brake system: Rapid fail-safe dual mechanical brakes
Secondary safety system: Pitch control system (for over-speed regulation) using passive springloaded
mechanism (patent pending)
Tower options: Freestanding monopole and freestanding lattice (100-140 ft.)
---
Eaton's new VCP-Wind medium voltage vacuum circuit breaker is designed specifically for wind applications. Specifically engineered to meet the requirements of wind farm applications, the new, compact circuit breaker is designed to provide reliable and robust circuit protection for wind farm collector substations. The 38 kilovolt (kV) VCP-Wind breakers offer current ratings up to 2000 amperes (A) without fan cooling and 31.5 kiloamperes (kA). They meet American National Standards Institute (ANSI) and Institute of Electrical and Electronics Engineers (IEEE) C37.09 standards. The VCP-Wind circuit breaker incorporates Eaton's industry-leading vacuum interrupting technology. Eaton's vacuum interrupters avoid the use of Sulfur Hexafluoride (SF6), which poses environmental and safety concerns. They are designed to reliably switch high stress currents, and require no cooling or ventilation systems. Additionally, they are encapsulated in epoxy resin material and require virtually no maintenance over the product life cycle.
The content & opinions in this article are the author's and do not necessarily represent the views of AltEnergyMag
---
Featured Product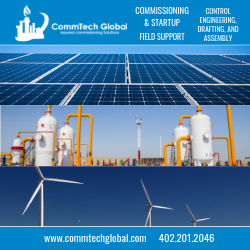 CommTech Global Solutions, LLC, provides professional and reliable commissioning services to customers in all realms of the energy industry. We blend our skills in engineering and technology with innovative business models, offering a complete range of services to assist you for a successful and in compliance operational startup. Consolidation of all our service domains gives our clients a comprehensive set of expertise and far-reaching experience on each project.