The resolution urges the U.S. government to move the U.S. towards greater energy independence and security.
The Iowa Biodiesel Board thanked the state legislature today for passing a resolution in strong support of federal energy policy, including the Renewable Fuels Standard. The resolution urges the U.S. government to move the U.S. towards greater energy independence and security, and "use all efforts to meet the highest possible renewable fuel volume requirements set forth in RFS2 in order to ensure that this nation achieves energy independence."

Randy Olson, CEO of the Iowa Biodiesel Board, issued the following statement:
"The legislature's resolution makes clear our state's commitment to renewable fuels like biodiesel, and shows backbone to the few but vocal opponents of the RFS-2.
"It is gratifying to see continued support from our state's leaders, who recognize the RFS and federal tax incentive for biodiesel as smart energy policy living up to their promise. On behalf of the biodiesel industry in Iowa, we thank the state legislature for standing up for biodiesel. It's not only in our state's best interest, but also our nation's, and we're proud to see Iowa once again at the forefront of leadership in this important industry."
The legislature sent the resolution to Acting EPA Administrator Bob Perciasepe, Secretary of Agriculture Tom Vilsack, and all members of Iowa's congressional delegation. The resolution is available at:
http://coolice.legis.iowa.gov/Cool-ICE/default.asp?Category=billinfo&Service=Billbook&frame=1&GA=85&hbill=SCR5
Featured Product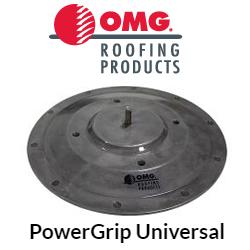 PowerGrip Plus Roof Mount System, a watertight structural attachment system used to secure ballasted solar racks and other equipment to roofs covered with thermoplastic (TPO and PVC) membranes. PowerGrip Plus is designed with wind performance in mind and offers ultimate tensile strength of 2,000 lbf. and ultimate shear strength of 1,075 lbf. Properly installed PowerGrip Plus units reduce rack movement and remaining watertight. PowerGrip Plus units are easy to install, saving both time and labor when compared to alternative options. A wide membrane skirt promotes easy welding in place, and the 15/8 diameter and 1/2 inch tall mount provides an optimal perch for securing brackets or struts. The exposed 1 inch tall and 3/8 inch diameter bolt and mounting stand are made from corrosion-resistant stainless steel and aluminum alloy for superior long-term performance.