Join this premier marcus evans conference on May 18-19, 2022 in Atlanta, GA or virtually. Energize Incident Planning and Execution through Collaboration and Communication to Exceed Stakeholder Expectations. Benefit from 15% discount available to AltenergyMag members!
The severity of weather events and the irregularity of weather patterns have become an increasing and continual threat to reliable service, safety, and corporate reputation. Additionally, many regulators and utility commissions have put additional pressures on utilities to bolster their reporting and planning processes within their emergency response organizations and related business units.

Attending the marcus evans 21st Edition Outage Response and Restoration Management conference will allow you to hear from utilities in the industry such as National Grid, San Diego Gas & Electric, Pacific Gas & Electric, AEP and PSE&G - Delivery Operations Support, and other North American utilities and partners, providing insights and lessons on building resiliency into your incident response and increasing your operational readiness to effectively plan, predict, and optimize restoration efforts.
Attending This Premier marcus evans Conference Will Enable You to:
• Strengthen the grid to improve recovery time and reduce outage duration.
• Forecast and predict weather-related events in an uncertain environment to better assess impact and response.
• Engage and enhance crisis communications during adverse events.
• Mobilize the right resources at the right time to the right place.
• Advance restoration readiness, logistics deployment and resource allocation through collaborative and strategic partnerships.
Best Practices and Case Studies from:
• David Bunge, Emergency Preparedness Manager, ComEd
• Ed Kieser, Sr. Meteorologist, AEP
• Glen Aichinger, Director, Emergency Planning - Electric, Emergency Planning & Resiliency, National Grid
• Matthew Khaled, MPA, CEM, Manager, Emergency Preparedness - Gas, PSE&G - Delivery Operations Support
• Christiaan Hofmann, Director, Transmission and Generation Operations, Salt River Project
• Patricia Nilsen, Director, Emergency Response, Avangrid
For more information please contact: Ria Kiayia, Digital Media and PR Marketing Executive at riak@marcusevanscy.com or visit: https://bit.ly/3O83GwW
Featured Product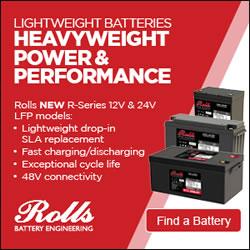 Designed for true drop-in replacement, Rolls new R-Series 12V & 24V LFP lithium models offer a maintenance-free lightweight flooded and SLA alternative in four popular BCI case sizes with fast charge/discharge capability. Rolls custom built-in BMS provides all necessary operating protections for safe operation and seamless integration for deep cycle replacement in 12V, 24V or 48V systems.