Given their availability, efficiency and technological advances, BESS are expected to lead the way in energy storage in the coming years.
The Hidden Side of BESS: What US Companies Should Know
Conor Sheehy, Vice President of Green Economy Investments | IDA Ireland
Electrochemical storage technologies are emerging as a pivotal player in the push to meet ambitious climate-action targets and create a more reliable, resilient energy infrastructure that better manages the world's power supplies. From vehicles and houses to industries and smart cities, these exciting new applications engage inventive ways to address the very real needs associated with capturing and storing energy for future use.
Battery energy storage systems (BESS) are central to this pioneering revolution. These novel systems capture and accumulate energy from electricity grids, solar, wind and other renewable power sources and store surplus energy in rechargeable batteries for later usage. Given their availability, efficiency and technological advances, BESS are expected to lead the way in energy storage in the coming years. These unique systems capture and accumulate energy from electricity grids, solar, wind and other renewable power sources and store the energy in rechargeable batteries for later use. Fortune Business Insights reports that the global battery energy storage market is projected to grow from $10.88 billion in 2022 to $31.20 billion by 2029.
This expanding industrial and consumer market is driving many disruptors at the heart of the US battery ecosystem to bolster their battery storage production. It's also why some of these enterprising energy companies – inspired by a desire to reach lucrative markets in Europe and access to Ireland's plentiful wind energy – are looking to Ireland to expand their operations.
Why US BESS manufacturers are finding opportunity on the Island of Ireland
If you look at a global wind atlas of the world that shows where the highest wind speeds and the best wind energy densities are, certain locations stand out: North Western Europe, particularly the West Coast of Ireland, France and Scotland. According to Dr. Paul Leahy, lecturer in Wind Energy at University College Cork and a funded investigator in the Science Foundation Ireland (SFI) MaREI Research Centre for Energy, Climate and Marine, "in terms of the actual amount of power that you can get out of a single turbine, there's almost nowhere better on the planet than the offshore wind of Ireland."
The Island of Ireland, with its new deep-water techniques for floating wind turbines suitable for deeper waters, offers ample wind energy in a country willing to adopt new techniques – and plenty of opportunity for any innovator looking to achieve a world-first.
Marek Kubik, managing director of Fluence, a global energy storage product, services and digital applications company formed originally as a joint venture between AES Corporation and Siemens, says a country's energy ecosystem is critical when determining where energy storage companies land. Renewable energy targets in Ireland represent an openness to innovation, a willingness to work with companies, and funding for projects in wind energy and BESS.
"Storage has a big role to play in shoring up the transmission and distribution infrastructure," Kubik says. This includes such essential tasks as balancing fluctuating supply from renewable energy with demand and using batteries to create 'virtual powerlines' that offset constraints in power flow. Grid-sized BESS will be a vital part of the future electrical distribution systems, he says.
Several other factors make Ireland an attractive market for Fluence. "Because it's a physical island system and the country has an aging fossil fuel generation as well as locational constraints between where the electricity generation resources are positioned and where the energy demand is," Kubik says, "all of this put together creates a significant need for flexibility of many different types in the electricity grid, and that is something battery-based energy storage is universally well placed to provide."
In Ireland, the state-owned Eirgrid has a DS3 System Services that aims to put in place the correct structure, level and type of service to ensure higher levels of non-synchronous renewable generation (up to 75% instantaneous penetration.) To do this, Kubik says, Eirgrid has an open invitation to work with "as wide a pool of generators and market participants as possible. This invitation offers opportunities that are lucrative and offers innovators looking for a captivating challenge the chance to break boundaries with new deep-sea technologies and greater capacity yields. In Ireland, the companies we've spoken with see an openness to innovation and a leading-edge approach to the integration of renewables. The 80 percent renewable by 2030 target is world-leading - there's no other power system of that size in the world planning to do this."
Kubrik rounds out by explaining that Ireland's model will be model for other locations around the globe.
"Ultimately, what Ireland is doing is going to be copied by other places. People are going to look to Ireland and ask how they got a system to run on 100 percent renewable energy for periods of time and hit an average of 80 percent over the year," he says. "If we can do it in Ireland, and learn from it, we can apply those learnings to other markets."
About Conor Sheehy
Conor Sheehy is Vice President of Green Economy Investments at IDA Ireland. Based in Dublin, he works closely with North American decarbonization and energy companies, helping them to establish and grow operations in Ireland. He can be reached at Conor.Sheehy@ida.ie.
The content & opinions in this article are the author's and do not necessarily represent the views of AltEnergyMag
---
Comments (0)
This post does not have any comments. Be the first to leave a comment below.
---
Post A Comment
You must be logged in before you can post a comment. Login now.
Featured Product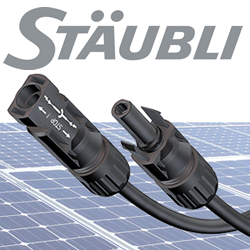 ​Stäubli Electrical Connectors are used on more than 300 GW, over 50% of the PV capacity worldwide. The MC4 family of UL and TUV listed products include connectors, in-line fuses, branch connectors, cable assembly and more.