Hybrid Concentrated Solar Energy System
Scientists from the Australian National University (ANU), Tianjin University in China and Chromasun, a Silicon Valley company with strong Australian connections, will join forces to create roof-mounted solar trough concentrator systems that they believe will be more cost-effective and efficient than previous models. The prototype measures 1.7 x 1.5 x 0.2 meters and incorporates seven mirrors that focus sunlight onto receiver tubes. Crystalline Si micro PV cells - with an efficiency of about 20% under concentrated sunlight - will be fitted to the receivers to operate under concentrated x20 - x30 sunlight with water cooling being used to deliver heat to the hot-water tank. Read more here.
Comments (1)
I'm glad that you mentioned Hedy Lamarr in this article. I've written a book about her and the patent taken out in 1942 (see http://www.robsbookshop.com/robsbookshop/page35.html). She and her co-patentee George Antheil certainly added a little glamout to the eveolution of spread spectrum
Post A Comment
You must be logged in before you can post a comment. Login now.
Featured Product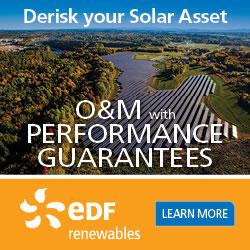 EDF Renewables offers the same innovative solutions that maximize the performance of our own 5.2 GW of installed projects. Because we're not an equipment manufacturer, our recommendations are transparent and data-driven. We cover the entire project lifecycle: from pre-commissioning support, through warranty and post warranty operation, to late stage and decommissioning.