Stanford's solar cell turbocharger could boost solar power output by 50%
Scientists at Stanford University have improved the efficiency of a revolutionary solar cell by around 100 times. Unlike standard photovoltaic cells, which only capture light energy, Stanford's new device captures both light and heat, potentially boosting solar cell efficiency towards 60% — way beyond the 30-40% limit of traditional silicon photovoltaic solar cells.
This new device uses a process called photon-enhanced thermionic emission (PETE). In photovoltaic cells, photons strike a semiconductor (usually silicon), creating electricity by knocking electrons loose from their parent atoms. The PETE process is similar, but also very different and altogether rather complex. In essence, think of it as the photovoltaic equivalent of a turbocharger. Full Article.
Comments (1)
Perhaps (certainly) a rhetorical question, but why must we, for commercialization purposes, exploit interim solutions with all of their negative environmental and social impacts, before going directly to the obvious and best answer? Certainly cost is a factor, but continuing to do so is just morally and ethically wrong.
Post A Comment
You must be logged in before you can post a comment. Login now.
Featured Product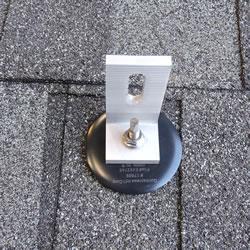 The QuickBOLT is THE affordable mounting solution for Asphalt Shingle Roofs. Not only is it the lowest cost system in the industry, it also maintains the fastest install time of any mounting system available. Unlike other Asphalt Mounting systems that require bulky flashing, the QuickBOLT uses a small EPDM washer and is 100% waterproof! Part # 17672