As things stand right now, the wind energy industry isn't going anywhere but it will continue to struggle under these steel tariffs. If it costs more to build wind turbines, it will cost more to generate electricity and those costs will be passed on to the consumer.
How are Tariffs Impacting the Wind Energy Industry?
Megan Ray Nichols | Schooled By Science
The wind energy industry, and green energy, in general, are growing exponentially as consumers and professionals alike realize the impending threat of climate change is quickly becoming our new reality. Unfortunately, the trade war with China and the threat of tariffs on materials imported from Mexico are threatening to stifle this growth. How are tariffs currently affecting the wind energy industry and how can companies cope with this growing threat?
The Growth of Wind Energy
The American wind energy industry is booming. In 2018, the sector boasted more than 114,000 jobs, 500 factories and $1 billion in sales. Collectively in 2018, the industry has installed nearly 100,000 megawatts of wind energy hardware. That's double what it produced in 2010. During that same year, wind turbines produced 6.5% of the country's energy.
According to the Bureau of Labor Statistics, between now and 2026, the industry will be the second-fastest growing industry in the country, adding more than 11,000 jobs and expanding by 96%. By 2050, experts estimate that the wind energy infrastructure will be able to produce more than 400 Gigawatts of energy!
All of this growth and expansion may sound like a phenomenal way to reduce our collective reliance on fossil fuels, but the trade war with China and the potential for tariffs on Mexican products may have a more dramatic impact than anyone could have foreseen.
The Impact of Tariffs
One of the most significant selling points for wind power is that it can reduce the costs of utilities for consumers and businesses, in addition to being zero-emission. The majority of these windmills are crafted from imported steel from China and Europe. The price of steel started to climb by the end of 2018, increasing by 66%. President Trump's trade war with China tacked on an additional 25% tariff on imported steel. China responded by implementing their own tariffs, making it more difficult for wind energy companies to import the steel they needed to support the industry's exponential growth.
These cost increases won't just slow down the wind energy sector — it's going to increase the cost of building turbines, which in turn will increase the cost of the green energy that they generate. It's not just the industry that's going to suffer here — it's the consumers that are trying to reduce their carbon footprints by switching to green energy. It might not make wind energy more expensive than fossil fuels, but it may put it out of reach for many consumers who are switching to green energy as a way to lower their monthly utility bills.
Coping with the Threat of Tariffs
Depending on where they source their steel from, some wind energy companies may already be able to breathe a little bit easier. In May, President Trump came to an agreement with both Canada and Mexico to remove the tariffs on steel and aluminum. In return, these countries agreed to suspend their retaliatory tariffs so the business could continue as usual.
The 25% Chinese tariffs are still in place, but China only accounts for about 2% of the country's steel imports. Canada and Mexico, who just had their tariffs suspended, account for 16.46% and 9.15%, respectively. Companies that are struggling with Chinese tariffs may wish to consider sourcing their steel from one of our North American neighbors. Brazil, the EU, and South Korea are also sources to consider, providing 13.53%, 14.55% and 9.87% of the country's steel imports, respectively.
The goal of these tariffs is to bring more steel production back to the United States, but sourcing their materials locally isn't always an option, especially for small wind energy startups.
The Future of the Wind Energy Industry
As things stand right now, the wind energy industry isn't going anywhere but it will continue to struggle under these steel tariffs. If it costs more to build wind turbines, it will cost more to generate electricity and those costs will be passed on to the consumer. Green energy is a growing field right now, but it won't be optional for long. Climate change is already impacting our way of life, and if we don't make dramatic changes, like switching to sustainable energy instead of using fossil fuels, the damage will be irreversible. Trump's tariffs and the trade war with China might slow down production for a while but it won't stop the progress the industry is making toward reliable and sustainable energy.
The content & opinions in this article are the author's and do not necessarily represent the views of AltEnergyMag
---
Comments (0)
This post does not have any comments. Be the first to leave a comment below.
---
Post A Comment
You must be logged in before you can post a comment. Login now.
Featured Product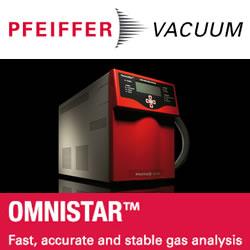 The Pfeiffer Vacuum OmniStar benchtop analysis system offers you a compact footprint, powerful software and Ethernet connectivity. It's the optimum solution for many real-time gas analysis applications. With the OmniStar, Pfeiffer Vacuum offers you a complete solution for gas analysis, in chemical processes, semiconductor industry, metallurgy, fermentation, catalysis, laser technology and environmental analysis. The turnkey OmniStar gas analysis system consists of heated, temperature-regulated gas inlet system, Quadrupole mass spectrometer, a dry diaphragm vacuum pump and HiPace turbopump. Unlike competing methods such as FTIR, OmniStar is suitable for qualitative and quantitative analysis of most gases.