It's plotting a new course to the destination utilities are already sailing to (a proactive condition based asset management) and that this new course or technology is often seen as a disruption first before realizing it as an opportunity.
Implementing Drones to Inspect Electric Utility Wires
Q&A with Ilkka Hiidenheimo, CEO | Sharper Shape
Tell us about Sharper Shape and the company's focus.
Sharper Shape aims to implement efficient automated aerial inspection processes, serving various customers across the electric utility industry with purpose-built sensor systems and cloud-based applications. Our two products, Consolidated Linear Inspection (CLI) and Automatic Detailed Inspection (ADI), utilize CORE software, gather, analyze and protect data collected through the drone inspection process. By emphasizing security and efficiency at every level of the inspection process, Sharper Shape works to elevate safety and performance standards that consistently improve the utility industry and communities that their customers serve.
Where are you seeing the greatest demand for your services now?
Hurricanes, extensive flooding, record-high temperatures, record-setting droughts and wildfires are redefining how power companies are managing major weather events. Combined, these natural disasters set the stage for our customers' strategies. By breaking down the process of inspection automation, we've realized just how important automated aerial inspections are. We enable our customers with flight and control plans to conduct Automatic Detailed Inspections so that they can address problems more efficiently and mitigate unpredictable environments. In implementing these services over the years, we've noticed that interest in our database and analytical software has grown significantly. Remotely analyzing and protecting data collected through inspections is extremely important to us and our customers.
The industry is realizing that condition-based maintenance and running assets to failure have consequences that are not acceptable. In the past, outages were the primary concern for utility companies. In the effort to continue to build reliability for their customers, these companies would track their outage metrics. Today, with aging infrastructure, cost pressures, and changing environmental conditions (from hurricanes, flooding, wildfires, and even polar vortex), an asset reaching failure can have a much greater impact including unfortunately loss of life. This is creating the demand for companies to adopt new technology and enhance traditional utility inspection programs to capture lower resolution ground level imagery for such issues. We provide the service of collecting high fidelity data of utility assets so that utilities can catch more assets before failure and minimize catastrophic impacts.
What are some of the challenges in implementing drones to inspect electric utility wires?
Plotting a new course to utilities' current destinations (a proactive condition-based asset management) are often viewed by the utilities as a disruption, as opposed to a new opportunity. It's important to recognize that drones are a small part of the inspection workflow that is evolving as utilities enhance their inspections and asset management. We encounter some of these challenges are across the entire inspection workflow from the inspection itself to making the asset corrections.
During the inspection itself, there are challenges in enhancing the process by equipping and training workforces to utilize drones and associated technology like Sharper Shape's Automated Detailed Inspection (ADI) product. The inspection process is enhanced when our ADI is implemented to capture consistent, repeatable utility asset data, or by adjusting utility work planning to incorporate outsourced inspection teams.
Energy utility industry professionals face many challenges throughout the inspection process, often in relation to increased regulations or costs. However, challenges that are not a focus yet that should receive more attention by utility providers include excess data, human errors and slow data collection/analysis processes. For example, many utility companies currently conduct field inspections with either line workers or helicopters to assess environmental conditions for when and where to re-energize power lines. This process poses common challenges including time consumption, limited resources like the number of qualified workers and available equipment, and dependency on ideal weather conditions. Even with qualified workers and ideal circumstances, these field inspections are not foolproof.
Can you outline a few unique drone use cases?
Drones are another tool in the toolbox - one that is hard to dispute. If you are out whale hunting for example, would you go out without binoculars? And if you saw a potential whale, you would most likely set course to get closer. Instead of sailing blindly toward it, and being disappointed when you find nothing, what if you deployed a drone to quickly get closer and remotely obtain a closer look. Drones for utility inspection programs provide the same benefit. You can quickly deploy a drone to capture up-close data that is beyond visible from a human eye to complete your inspection. Because drones are so nimble and capable at long distances, you can avoid hiking across hazardous terrain to capture data of a utility asset from a distance.
There are also benefits of collecting high fidelity data on all assets that satisfy uses cases beyond the inspection. This data can be used to populate asset registry and feed into various workflows. For example, many communication companies connect to utility assets and offer high resolution asset history data that is valuable in differentiating which party made adjustments. This asset comes in handy during decisions related to joint billing. This provides a financial benefit to the asset owner by avoiding a lack of data that could result in a bill for the full cost of maintenance. Data collected by drones verifies as-builts. Tying this process to render payment in the case of an outsourced maintenance or construction job stands as another benefit of drone implementation.
What role does AI and machine learning (ML) play in drone inspections?
There is a bright future in incorporating AI and ML to utility asset inspections, but this is a journey that will take time. Fortunately, it is a journey that reaps benefits along the way, and a journey that is at its beginning. Like most AI and ML systems, a large amount of data is the required input, which the industry does not offer at this time. As utilities adopt and enhance inspection programs and collect data, AI and ML algorithms can be trained to assist the remote inspection process. From recognizing insulator objects, to suggesting a potential failure for review and automating the inspection order to maintenance/construction job ticket process, utilities will begin seeing O&M reductions. When automation becomes feasible, an immense amount of O&M reductions can be realized. This also opens the door for an even higher level of inspection. For example, having a manual process of assessing millions of miles of conductor to see a broken strand is time consuming and ineffective. In the future, an AI system may be able to quickly find the "needle in the haystack," and enable the utility to catch it before it fails. These potential usages go beyond the financial benefit and provide safety and reliability benefits to utility companies across the board.
AI and ML drives fast, automated deep data inspection and analysis. Modernized solutions, like drones, help provide better results to utility companies, but only when paired with new ways of thinking about, processing and utilizing data management. Collecting and generating data is not enough anymore. Power companies need a long-term processed approach with new workflows to support processes that yield more effective actions for utility companies to better serve their communities. AI and ML drive the technology that manages big data and minimizes the effort that is typically required for close-up inspections. As a result, results consisting of consistent and repeatable data will significantly improve.
How can organizations such as utilities manage the data that these drones capture?
Large datasets can be great, valuable assets, but it's a new utility workflow that has typically not been required. The data management systems take similar infrastructure and care that utilities have implemented to manage smart meter data, so we understand how this can be overwhelming and challenging. As mentioned above, this is precisely why Sharper Shape has been laser focused on this industry and this particular challenge. Our software solution utilizes cloud solutions to house big data and provides a solution that was designed for utility workflows and utility customers. In fact, one of our customers recently stated, "I've never seen a more lineman friendly program."
Do organizations need a Chief Data Officer in today's day in age to deal with this abundance of data?
Yes! With drone technology, collecting the needed asset data is possible. This data is an enabler to future capabilities like AI and machine learning and better workflow processes – turning complex information into clear, simple and actionable resources. Together, this creates revolutionary processes that will lead to long-term, beneficial results. These changes need to start from the top, and equipping data teams with a Chief Data Officer (CDO) that has a firm grasp on data processing and adept understanding of how to effectively use it would help utility companies significantly as they look to better serve and protect their customers.
What are your Predictions for the drone industry in 2020 and beyond?
We are excited about drone industry enhancements in 2020 and beyond, particularly in drone automation and AI/ML as they continue to help utilities enhance their asset management programs and minimize the negative impact on assets. In the drone industry, we see nothing but growth. In December 2018, the FAA released numbers showing commercial drone sales increasing to 2.7 million units by 2020, and we anticipate that upward trend will pick up. We anticipate even more advanced drone capabilities, drone batteries and FAA regulation enabling more utility of drones.
Looking ahead, we are noticing many people focusing on the FAA's allowance of Beyond Visual Line of Sight (BVLOS) regulation as the impediment to drone utilization, but we believe there is much more to it. Take the Electric Vehicle (EV) industry, for example. One of the impediments to the EV market was battery capacity, which the industry put its focus on improving. However, that was only a small part of the puzzle. The infrastructure to support EV's was lacking and continues to be lacking which is really the biggest impediment to EV adoption. Similarly, drones are currently operated manually, for the most part, and like any human process, errors can happen. As a result, Sharper Shape and its customers have standard operating procedures for minimum two person teams as well as a minimum approach distance to stay clear of energized equipment. Even if the FAA enable BVLOS, we don't anticipate many utilities utilizing that license given that flying drones within visual line of sight is challenging enough.
With many utility companies adopting drone technology, this progression will also force them to reevaluate technical strategies in their search for tools that complement standard asset and vegetation inspection.
We will also be seeing further evolution in AI and machine learning. Companies will see upgrades in technology as algorithms generate more accurate results based on the large amounts of inputted data. As for hardware, the sensor market is experiencing a shift in sensors becoming cheaper and lighter while still retaining high power, these changes are sure to lead to higher fidelity data, more accurate results and actionable insights.
About Ilkka Hiidenheimo
Ilkka Hiidenheimo is the CEO of Sharper Shape, a company focused on creating purpose-built sensor systems and cloud-based applications for the electric utility industry. Prior to this, Hiidenheimo was the founder of Stonesoft Corporation. He initially served as CTO and then held the role of Managing Director and CEO. Hiidenheimo has more than 30 years of experience working in the computer industry and IT-security.
The content & opinions in this article are the author's and do not necessarily represent the views of AltEnergyMag
---
Comments (0)
This post does not have any comments. Be the first to leave a comment below.
---
Post A Comment
You must be logged in before you can post a comment. Login now.
Featured Product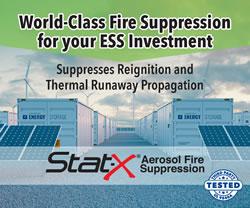 Stat-X® condensed aerosol fire suppression is a solution for energy storage systems (ESS) and battery energy storage systems (BESS) applications. Our Stat-X condensed aerosol fire extinguishing product was tested for efficacy in suppressing li-ion battery fires. It was found that the product successfully extinguished single and double cell battery fires. This testing was conducted in parallel with a large battery fire testing program on behalf of a large energy storage company.