The modular design simplifies roof layouts and product ordering while stackable components reduce shipping volume and provide easy transport of materials to the roof.
POWER MAX™ Ballasted Roof Mounting System
Q&A with Dustin Graef | Preformed Line Products
Tell us about Preformed Line Products and your role with the company.
Preformed Line Products (PLP) is a worldwide designer, manufacturer, and supplier of high-quality PV solar mounting structures, cable anchoring and control hardware systems for the utility industry, and fiber optic and copper splice closures. PLP acquired DPW Solar in 2007 and became a major domestic manufacturer of innovative PV solar mounting systems for utility, commercial, residential and industrial applications. Professional installers from coast to coast rely on our superior strength and easy to install pole mount, roof mount and ground mount solar designs. We deliver added value to our customers through product application and engineering expertise and unparalleled customer support.
I'm Dustin Graef, PLP's Product Manager for our PV solar mounting systems and solutions
Tell us about your new product the POWER MAX Ballasted Roof Mounting System.
The POWER MAX PV Solar Mounting System is a fully ballasted, high-strength mounting system developed with the professional installer in mind. Featuring fewer components and no loose hardware, the POWER MAX is designed to provide a faster assembly rate and shorter learning curve for installers. The modular design simplifies roof layouts and product ordering while stackable components reduce shipping volume and provide easy transport of materials to the roof. The system is available in flush, dual tilt, 5- or 10-degree tilt options to maximize energy production and fit a variety of applications.

Why do you feel this product is a major step forward for flat roof solar mounts?
The POWER MAX 5- and 10-degree tilt versions offer a revolutionary design that features adjustable inter-row spacing options for increased design and roof layout flexibility. By simply sliding the mounting brackets, inter-row spacing can be adjusted up to 11 inches. This feature also saves time on the job site when encountering unplanned roof obstructions. The POWER MAX system with field adjustability avoids the problems associated with modifying traditional fixed-spaced mounting systems.
Can you give us an idea on the installation process for POWER MAX?
PLP offers a tilted, dual tilt, and flush system. What system should I choose if I want to maximize energy production?
PLP offers three different mounting configuration options that are dependent on the available roof space, local environmental conditions, and maintenance requirements. The POWER MAX flush system maximizes module density, requires less ballast weight, and provides a more economical solution. The flush system requires up to 33% fewer parts and results in a faster installation time.
What about the use of plastic components on a roof. Will they perform?
The POWER MAX base is manufactured from an engineered polycarbonate (PC) resin with both UL-V0 flame rating and UL-F1 outdoor rating for retaining mechanical properties. The system also exceeded UL2703 third-party testing requirements and is fully certified. The POWER MAX PC bases are non-conductive, lighter in weight, more corrosion resistant, and eliminate sharp edges when compared to metal components. The PC design also allows for stacking and more condensed packaging. Also, PLP has a long history of supplying outdoor rated, fiber optic splice closures to the power utility and telecommunication industries manufactured from the same PC material.
The content & opinions in this article are the author's and do not necessarily represent the views of AltEnergyMag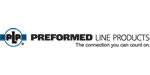 PREFORMED LINE PRODUCTS Solar Mounting Solutions
Preformed Line Products, also known as PLP, is a global designer, manufacturer and supplier of products and services supporting the Energy, Communications, and Solar industries, among many others. Since 1947, we have been committed to technical innovation through superior product design, extensive testing/analysis, and unparalleled customer service. Our multiple U.S. manufacturing and design centers, 18 international locations, and 2,700+ dedicated employees allow us to be both flexible and fully committed to each and every customer, project, and opportunity at hand.
---
Comments (0)
This post does not have any comments. Be the first to leave a comment below.
---
Post A Comment
You must be logged in before you can post a comment. Login now.
Featured Product
What if you could maximize the Ground Coverage Ratio (GCR) on your next project and not have to worry about the complicated variables that come with a tracker system? With a low tilt and clearance design, Dahlia® has the highest GCR of any fixed-tilt system in the marketplace. The system is available in three tilt options (7.5, 10 and 12.5 degrees) and designed to accommodate any sized PV module. The lightweight system is engineered with fewer components, several of which are shipped to job sites pre-assembled. This design feature reduces freight costs and rapidly trims the amount of on-site installation time required to complete construction. Maximizing PV coverage on a site can lead to an increase of production, which creates greater financial return for project owners. Over 100 MW of Dahlia® projects have been deployed across the United States, in regions of variable snow and wind loads. How much can Dahlia® cover and save you on your next project?