Manufacturing

Marketing Partner
---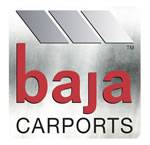 Baja Carports [Baja Construction Co., Inc.]
Baja Carports 38-years industry experience. Nationwide services include in-house design/engineering, supply and self-performed installation. Baja's cost-efficient pre-engineered bolted connection framing systems and components are configured from cold-rolled light-gauge, high tensile-steel. For large coverage areas, used for "long-span" conditions, Baja's structural steel configurations can simplify the design process by providing a cost-effective solution. Baja helps customers meet their local jurisdiction requirements, with standard framing systems capable of meeting live/snow loads up to 90 psf and wind speeds up to 170 mph or customized to special loading requirements to customer specific conditions. Emphasis is placed on site layout to obtain maximum coverage with optimal PV production.
---
Mailing Address:
223 Foster Street
Martinez, CA 94553
United States of America
Tel: 1 (800) 366-9600
Fax: 925-229-0161
Email: info@bajacarports.com
Website: http://www.bajacarports.com/
Company Category: Solar & Wind
Geographic Region: USA - South West
Company Sector: Manufacturing
Keywords: solar, mounts, structures, carports, commercial
Partner Status: Marketing Partner
---
Products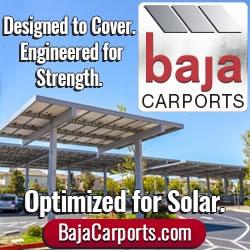 Baja Carports offers an extensive solar support system product line customized to customers' site specifications by in-house engineers, meeting their parking lot coverage, plus optimal PV production needs. Baja's Full Cantilever Tee is often paired with its Semi and Full Cantilever carports to meet live/loads up to 60psf and wind speeds to 160mph. All Baja products are pre-fabricated, bolted connections, pre-galvanized structural steel for fast on-site installation and project aesthetic requirements."
---
Articles
This year we will have our newest solar carport called the Fast Port Solar Support System. Also, we will be showcasing Baja Carport Braced Single Post Solar Support System. Visit us at Booth #2458, 6011 and in the Beer Garden.
Our booth [#9511] exhibit will feature Bajas Brace Single Post Solar Support System. Having an actual Baja Carport that people can touch and walk under, look up to see its features - gives people a sense of what we do and achieve every day for our customers.
---
White Papers
This Company does not currently have any White Papers
---
Press Releases
Unique in the solar industry, Powering Title 24 combines solar carports, virtual net-metering software and tax-enabled financing to help apartment builders and owners convert Title 24 mandates into long-term benefits.
---