Manufacturing

Marketing Partner
---
Electriq Power
Electriq Power is a US-based company that develops premier smart home battery storage solutions.
---
Mailing Address:
14451 Catalina St.
San Leandro, CA 94577
United States of America
Tel: (855) 977-5425
Fax:
Email: info@electriqpower.com
Website: https://electriqpower.com/
Company Category: Energy Storage & Grids
Geographic Region: USA - South West
Company Sector: Manufacturing
Keywords: batteries, energy storage, home battery, ev, grid
Partner Status: Marketing Partner
---
Products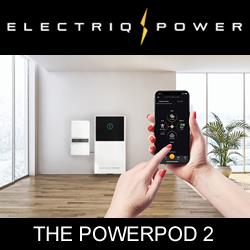 The Electriq PowerPod 2 is a fully-integrated home energy storage, management, and monitoring system powered by LFP batteries. The high-performance, cobalt-free product includes a hybrid solar/battery inverter controlled by intelligent software. The PowerPod 2 provides backup power and can self-consume or export excess power back to the grid.
---
Articles
One of the most recent developments in the industry is the shift to LFP chemistry, a non-toxic, non-hazardous solution that allows for longer battery cycle life, increased reliability, and enhanced safety. We knew we had to create our own LFP option.
In Booth #3463 we will be showcasing the IQ System, a fully-integrated energy storage, management and monitoring system.
ElectrIQs fully-integrated energy storage and home energy management solution.
---
White Papers
This Company does not currently have any White Papers
---
---