Manufacturing

Marketing Partner
---
Q CELLS
Q CELLS is a renowned total energy solutions provider in solar cell and module, energy storage, downstream project business and energy retail. It is headquartered in Seoul, South Korea (Global Executive HQ) and Thalheim, Germany (Technology & Innovation HQ) with its diverse international manufacturing facilities in the U.S., Malaysia, China, and South Korea. Through its growing global business network spanning Europe, North America, Asia, South America, Africa and the Middle East, Q CELLS provides excellent services and long-term partnerships to its customers in the utility, commercial, governmental and residential markets.
---
Mailing Address:
400 Spectrum Center Drive, Suite 1400
Irvine, CA 92618
United States of America
Tel: 9497485996
Fax:
Email: inquiry@us.q-cells.com
Website: https://www.q-cells.us/na/main.html
Company Category:
Geographic Region: USA - South West
Company Sector: Manufacturing
Keywords: solar, residential, energy storage, panels
Partner Status: Marketing Partner
---
Products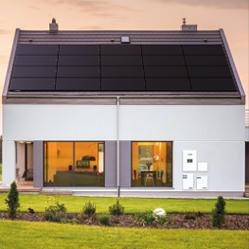 The Q.Home+ ESS HYB-G1 energy storage solution offers scalable storage capacity from 4.5 kWh up to 18.9 kWh and comes in a modular design for easy and fast installation. The system is offered in both DC-coupled and AC-coupled configurations and can connect up to 3 batteries in series using only one inverter and battery management system (BMS). The system includes an integrated backup power function for 100% of the rated inverter output to support critical loads in the event of power failure and offers remote monitoring using the QHOME+ web portal or QHOME+ ESS mobile app.
---
Articles
This Company does not currently have any Articles
---
White Papers
This Company does not currently have any White Papers
---
---