Manufacturing

Marketing Partner
---

Sierra Instruments, Inc.
Sierra manufacturers high performance mass flow meters and controllers for nearly any gas, liquid, or steam. Customers choose Sierra when they need an accurate and repeatable flow measurement, short delivery lead times, expert flow advice, and long term support.
---
Mailing Address:
5 Harris Court, Building L
Monterey, CA 93940
United States of America
Tel: 831-373-0200 or 800-866-0200
Fax: 831-373-4402
Email: info@sierrainstruments.com
Website: http://www.sierrainstruments.com
Company Category: EVs and Fuel Cells
Geographic Region: USA - North West
Company Sector: Manufacturing
Keywords: Flow meter, flowmeter, mass flow, controllers, ultrasonic
Partner Status: Marketing Partner
---
Products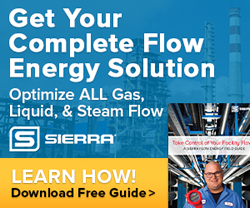 Download Flow Energy Guide - Written by Engineers For Engineers. Learn how to save on energy costs by optimizing your facility flows that impact costs like compressed air, natural gas, steam, and hot or chilled water.
---
Articles
Measuring the flow rate of flare gas is challenging because a flare is not a pure gas, but a mixture of many different gases. In order to correctly measure the flow rate of the constituent gases, the composition of the flare must be known.
Many flow meter companies have jumped into the biogas measurement market, but not all technologies can handle this tough application. Lets look at why biogas measurement is so challenging and how it can be best handled.
For efficient Geothermal energy production, water is heated from the earths natural heat in geothermal wells, then is cooled off and sent back into the earth to be reused in the energy-generating process.
---
---
---