Manufacturing

Marketing Partner
---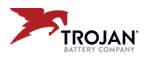 Trojan Battery
As the world's leading manufacturer of deep-cycle batteries, Trojan Battery offers the broadest portfolio of high-quality deep-cycle flooded, AGM and gel products for renewable energy and backup power applications. Having shaped the world of deep-cycle battery technology for more than 85 years, Trojan's pioneering research, development and manufacturing experience has firmly established its legacy of applying focused engineering expertise addressing the needs of the renewable energy marketplace.
---
Mailing Address:
12380 Clark St.
Santa Fe Springs, CA 90670
United States of America
Tel: 800-423-6569
Fax: 562-236-3282
Email: re@trojanbattery.com
Website: http://www.trojanbatteryRE.com
Company Category: Solar & Wind
Geographic Region: USA - South West
Company Sector: Manufacturing
Keywords: trojan battery deep cycle batteries power storage
Partner Status: Marketing Partner
---
Products
Trojan's deep-cycle batteries provide rugged durability, outstanding performance and long life for use in all types of solar energy installations. With over 90 years of experience, Trojan delivers the world's most reliable and trusted batteries in flooded, AGM, Gel, and Lithium types. These batteries enable solar equipment systems to operate at a peak level of performance in the harshest conditions or the most challenging of locations and are manufactured and tested to IEC standards.
---
Articles
We are starting to see the demand for lithium batteries increase in this market, so Trillium Intelligent Lithium batteries will be a huge focus for the booth. Booth #7047
---
White Papers
SELECTING THE PROPER LEAD-ACID TECHNOLOGY
With so many different battery technologies on the market today, it can be difficult to make sure you're selecting the right battery for your application. This document will describe the basic types of lead-acid batteries available, and help you understand which one will provide the best performance and value for your needs.
---
---