The members of the European Photovoltaic Industry Association adopted last Saturday, a proactive strategy for their Brussels-based organization with the mandate to further develop European and global markets.
A new EPIA Board was elected for four years, the same duration as the new action plan. The new EPIA President appointed for 2 years is Dr. Winfried Hoffmann, member of the management Committee of German-based Schott Solar, one of the leading European PV manufacturers. Second Vice-President is Ernesto Macías, Communication Director at Isofoton (Spain). Dr. Murray Cameron (Phoenix SonnenStrom, Germany) and Boris Klebensberger (SolarWorld, Germany) are the two other Vice-Presidents. Four Directors have been elected members of the Board: Anton Milner (Q-Cells, Germany), Eric Laborde (Photowatt International, France), Albert Edelmann (Conergy, Germany), Guenther Cramer (SMA, Germany).

The EPIA members unanimously approved the new strategy proposed. It will run from 2006 until 2010, based from the results from the last 2003-2006 strategy which was clearly market-oriented and enlarges to new activities such as environmental issues and give a clear focus on promotion actions. The objective of the new strategy is to reach a 2,7 GWp market in Europe in 2010, which is equivalent to the supply of electricity to over 7 million families, cumulatively and to reach a 5,4 GWp global market.
The action plan to reach these objectives will be articulated in 4 pillars: Competitiveness (reach mass production for cost reduction); Innovation (financing PV R&D in next FP7 and in all Europe to reach 250 million € /year); Quality (improve PV's image and participate to the well-being of the Society); Promotion (Improve EPIA's communication as a "credible voice"). The global EPIA budget adopted by the members will enable to allocate 10 Million € on 4 years to run this ambitious strategy.
About the European Photovoltaic Industry Association:
With over 80 Members drawn from across the entire solar electricity sector, EPIA represents over 95% of the European photovoltaic industry and 80% of the Global PV industry. The Association's mission is to deliver a distinct and valuable service driven from the strength of a single European photovoltaic voice.
Featured Product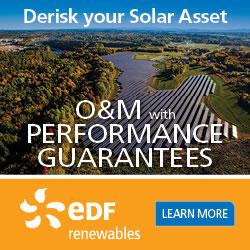 EDF Renewables offers the same innovative solutions that maximize the performance of our own 5.2 GW of installed projects. Because we're not an equipment manufacturer, our recommendations are transparent and data-driven. We cover the entire project lifecycle: from pre-commissioning support, through warranty and post warranty operation, to late stage and decommissioning.