The Illinois Solar Energy Association, a 501c3 chapter of the American Solar Energy Society, has launched workshops in the Chicago area to help the public understand how solar heating and electricity could work for them in homes, businesses and communities in Illinois.
The Il
linois Solar Energy Association is pleased to announce their Solar 101 Workshops throughout the Chicago metropolitan area. Topics include how well solar energy systems work in Illinois, describing and comparing solar thermal and photovoltaic systems, and economic and incentive issues. Workshops will be held on Saturday mornings from 9:30 AM to 12:30 PM at the following dates and locations: June 24, Oak Park; July 15, Batavia; August 12, Warrenville; August 26 and September 30, Chicago Center for Green Technology. For further information on registration, please contact www.illinoissolar.org/workshops, mark.burger@illinoissolar.org or 708-267-7965.
Featured Product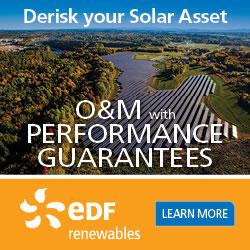 EDF Renewables offers the same innovative solutions that maximize the performance of our own 5.2 GW of installed projects. Because we're not an equipment manufacturer, our recommendations are transparent and data-driven. We cover the entire project lifecycle: from pre-commissioning support, through warranty and post warranty operation, to late stage and decommissioning.