Top Five Investors Race to Win the ZAP Electric Car, Scooter GreenTechInvestor.com to Announce Winners Following Close, August 18, 2006
Final Week for GreenTechInvestor.com Virtual Green Investor Challenge - Top Five Investors Race to Win the ZAP Electric Car, Scooter

GreenTechInvestor.com to Announce Winners Following Close, August 18, 2006
POINT ROBERTS, Wash., Delta, B.C. - August 14, 2006 - Green technology investor portals www.RenewableEnergyStocks.com' and www.GreenTechInvestor.com name the top five leaders at the time of this release: Badcat, Simeron, ejorgens, Blake, stockmaven, as the final week of the GreenTechInvestor.com Virtual Green Investor Challenge comes to a close. The contest was designed to give investors and industry an opportunity to become educated in green technology, learn about the current list of public plays in the sector, with the ultimate greentech investors winning a ZAP (NYSE Arca:ZP) electric car or electric scooter.
The contest allows investors to submit stocks not currently listed if they are appropriate for the renewable, green and environmental sectors. "GreenTechInvestor.com has received ongoing requests, additions and questions throughout the contest", commented webmaster Joe Loeppky. "The Investors in the contest have been very interactive."
To view the GreenTechInvestor.com current list of "green stocks": http://www.greentechinvestor.com/stock_list.aspx
The contest started June 19th and finishes at the close of trading on August 18, 2006. The contest started investors with $200,000 in virtual dollars to invest in green companies of choice from a list provided by RenewableEnergyStocks.com'. The current stock list includes a cross section of public companies trading on OTC, AMEX, NASDAQ, NYSE as well as TSX. Because Investors can trade microcap stocks in massive volumes within the portfolio, the gains are impressive.
Featured GreenTechInvestor.com Publicly Traded "Green" Sponsors Include: Alchemy Enterprises (OTCBB: ACHM), Hendrx Corp (OTCBB: HDRX), International Barrier Technology Inc. ("Barrier") (OTCBB: IBTGF; TSXV: IBH), XsunX, Inc. (OTCBB: XSNX).
Disclaimer: www.InvestorIdeas.com/About/Disclaimer.asp (Parent Company InvestorIdeas.com' is compensated by sponsors)
Current sponsors and prizes include a ZAP® www.zapworld.com (NYSE Arca:ZP) Electric Car and Electric Scooter, plus prizes from MicrocapTrade www.MicrocapTrade.com, Energy Hedge Fund Center LLC www.energyhedgefunds.com and eco friendly children's products, Wild Heart Ranch, Inc. www.WildHeartRanch.com
About Us:
The Ultimate Green Tech Investor Virtual Stock Trading Contest - a chance to win an electric car and other great prizes! Brought to you by InvestorIdeas.com', RenewableEnergyStocks.com', EnvironmentStocks.com, FuelCellCarNews.com and our sponsors.
www.RenewableEnergyStocks.com' (RES), www.EnvironmentStocks.com (ES) and www.FuelCellCarNews.com (FCCN) are portals within the InvestorIdeas.com' content umbrella. Our sites do not make recommendations, but offer investors research, news, interviews, articles, blogs and links to public companies within the renewable energy, clean tech and fuel cell sectors. We provide a variety of renewable and green content through: Clean Energy News Blog, Renewable Energy Blog and articles by solar expert, J. Peter Lynch, all available on RenewableEnergyStocks.com' Disclaimer: Portals are compensated by Featured advertising companies.
Our sites do not make recommendations, but offer information portals to research news, articles, stock lists and recent research. Nothing on our sites should be construed as an offer or solicitation to buy or sell products or securities. We attempt to research thoroughly, but we offer no guarantees as to the accuracy of information presented. All Information relating to featured companies is sourced from public documents and/ or the company and/or IR firm and is not the opinion of our web sites. These sites are currently compensated by its "featured companies" http://www.investorideas.com/About/News/Clientspecifics.asp
For more information contact:
Dawn Van Zant 800.665.0411
Ann-Marie Fleming 866.725.2554
Email: dvanzant@investorideas.com, or afleming@investorideas.com
Site: www.GreenTechInvestor.com
Source: RenewableEnergyStocks.com'
Featured Product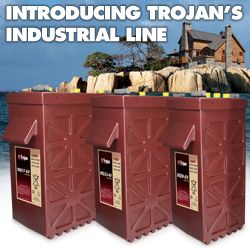 Trojan's deep-cycle batteries provide rugged durability, outstanding performance and long life for use in all types of solar energy installations. With over 90 years of experience, Trojan delivers the world's most reliable and trusted batteries in flooded, AGM, Gel, and Lithium types. These batteries enable solar equipment systems to operate at a peak level of performance in the harshest conditions or the most challenging of locations and are manufactured and tested to IEC standards.