New Fuel System Can Deliver 10X the Energy Density of Batteries
Release: http://www.thomas-pr.com/pressreleases/jadoogeneralatomicsrelease.html

For Jadoo Power Photo: http://www.thomas-pr.com/136/photos/jadoopowerlogo.html
Agency Contact:
Karen Thomas
Thomas PR
(631) 549-7575
kthomas@thomas-pr.com
JADOO POWER AWARDED GENERAL ATOMICS CONTRACT FOR
ADVANCED FUEL CANISTER DESIGN
New Fuel System Can Deliver 10X the Energy Density of Batteries
Folsom, CA - August 23, 2006 - Jadoo Power Systems Inc. (Jadoo) www.jadoopower.com, the leading supplier of portable fuel cell power systems, announced today that General Atomics, Space Power Division has awarded Jadoo a contract to develop an advanced fuel canister for use with hydrogen fuel cells.
Using Jadoo's N-Stor intelligent digital fuel interface, the new fuel canister utilizes an advanced chemical hydride derived from ammonia borane. Compared to re-chargeable metal hydrides, one-time use chemical hydrides provide higher energy densities at a dramatically reduced weight. The fuel canister will allow consumers to choose which fuel option they prefer, knowing that the interface ensures compatibility with the Jadoo N-Gen fuel cell power unit. The proprietary Jadoo N-Stor interface adds following capabilities to the new fuel canister:
• Easy-to-use digital "state-of-fill" indicator
• Automatic information transfer between fuel canister and fuel cell for power, data and fluids
• Industry standard, tamper-proof safety valve design
• 100% compatibility with all N-Stor enabled fuel cell power units
"The N-Stor interface is certainly an important and necessary innovation for the advancement of fuel cell power," said Dr. Tom Lechtenberg, General Atomics Vice President. "With an installed base of fuel cell systems in the market, the time to commercialization of an ammonia borane fuel solution will be cut in half thanks to the N-Stor interface."
"Our N-Stor interface is quickly becoming a standard for the industry," said Larry Bawden, President & CEO, Jadoo Power. "We are excited to be working with General Atomics to bring yet another advanced fuel option to market for our customers."
About Jadoo Power Systems
www.jadoopower.com
Jadoo Power Systems, Inc. is a market-focused company that develops and sells next-generation, portable energy storage and power generation products. Jadoo is financed by Mohr Davidow Ventures, Venrock Associates and Sinclair Ventures, a wholly owned subsidiary of Sinclair Broadcast Group, Inc.
About General Atomics
www.ga.com
General Atomics, founded in 1955 with corporate headquarters in San Diego, CA, specializes in diversified research, development, and manufacturing in defense, energy and other advanced technology arenas.
###
Featured Product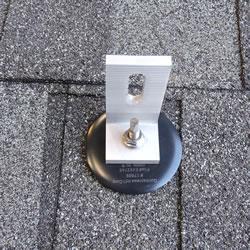 SolarRoofHook's Low Profile QuickBOLT with Microflashing™ is the industry's affordable, UL Certified Asphalt Shingle mounting system. The Microflashing™ is compressed by the collar on the bolt to create a water-tight seal. With an installation time of less than one minute, the Low Profile QuickBOLT allows installers to complete more jobs.