Manufacturers, retailers and people who care about the environment are invited to a show for everything that is good for the planet.
The Global Eco Green Trade Show, www.globalecoshow.com and our partner,

the ASAP Sourcing Show, www.asapshow.com will hold our shows on February 12-15 2007, in the Grand Ballroom, Venetian Hotel, Las Vegas, NV.
We are the only trade show in USA that specializes in all types of wholesale environmental products.
We are a trade show but everyone who cares about the environment is invited. See what is out there to buy, you can make a difference.
Go organic,
Howard Gabe
www.globalecoshow.com
626 376 8664
Featured Product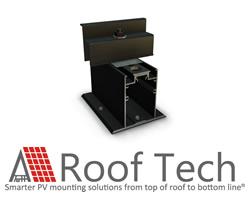 The most compact versatile rail-less PV mounting system under the sun. Instead of placing solar panels on top of long rails, simply attach E Mount AIR to rafters or the roof decking. Once panels are fastened to the roof, the system array is electrically bonded. The result is a visually seamless PV installation that stands the test of time. - Truly "One With The Roof". - PE stamped cert. letters available, UL 2703 Classified, ASTM 2140 fully waterproof. The one and only with integrated flexible flashing certified by the ICC! All the best quality. Only from Roof Tech