Xantrex Technology Inc. today announced the launch of the Xantrex CR Series Inverter/Charger for African, South American and Middle East markets.
VANCOUVER, BC, November 22, 2006 - Xantrex Technology Inc. (TSX:XTX), today announced the launch of the Xantrex CR Series Inverter/Charger for African, South American and Middle East markets. The CR Series Inverter/Charger is an affordable, entry-level product line to complement the existing range of Xantrex residential and commercial inverters and backup power solutions.

The Xantrex CR Series Inverter/Charger is a low cost solution enabling Xantrex to provide an extended range of options and solutions for a wider spectrum of customers. The CR Series combines the benefits of uninterruptible power supplies with the extended runtime provided by a large battery bank. Available in 1000, 1500 and 2400 watt models, the CR Series is ideal for providing backup power for common household appliances such as refrigerators, computers, lights, televisions, radios and fans.
The CR Series features a compact design that weighs between 18 and 27kg, depending on the model, and features an automatic, fast transfer switch that switches the unit to battery power when AC power is interrupted, ensuring that power is maintained to critical appliances.
A built-in, multi-stage, power factor corrected (PFC) battery charger ensures that the batteries are fully charged when utility power is restored or a generator is connected. The Xantrex CR series inverter/chargers have low and high battery voltage and overload protection circuitry and have a front panel LED indicator to provide operating status-at-a-glance. Audible alarms indicate low battery voltage, overload and fault conditions.
"The CR Series Inverter/Charger provides a competitively priced solution for applications where the cost of backup power systems has traditionally been prohibitive, without sacrificing quality or functionality", said John Wallace, Xantrex CEO. "We have designed the CR Series to be economical and provide the performance and high reliability that Xantrex products consistently bring to the market."
Xantrex inverters are the preferred choice for an increasing number of renewable energy customers worldwide.
For more information on the Xantrex CR Series Inverter/Charger, please visit www.xantrex.com/web/id/193/p/1/pt/25/product.asp
About Xantrex
Xantrex Technology Inc. (www.xantrex.com) is a world leader in the development, manufacturing and marketing of advanced power electronic products and systems for the renewable, portable, mobile, and programmable power markets. The company's products convert and control raw electrical power from any central, distributed, renewable, or backup power source into high-quality power required by electronic and electrical equipment. Headquartered in Vancouver, British Columbia, the company has facilities in Arlington, Washington; Livermore, California; Elkhart, Indiana; Barcelona, Spain; and Reading, England. Xantrex is publicly listed on the Toronto Stock Exchange under the ticker symbol "XTX".
Note that this news release contains forward-looking statements related to Xantrex Technology Inc. Such statements reflect the current views of Xantrex with respect to future events and are subject to risks and uncertainties that could cause actual results to differ materially from those contemplated in these forward-looking statements.
For further information, please contact:
Bob Neudecker
(604) 422-2589
bob.neudecker@xantrex.com
For Europe, Middle East and African markets, please contact:
Raquel Espada
+34 934705330
raquel.espada@xantrex.com
Featured Product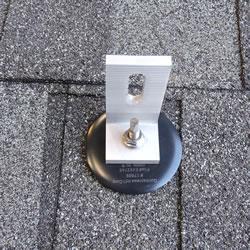 SolarRoofHook's Low Profile QuickBOLT with Microflashing™ is the industry's affordable, UL Certified Asphalt Shingle mounting system. The Microflashing™ is compressed by the collar on the bolt to create a water-tight seal. With an installation time of less than one minute, the Low Profile QuickBOLT allows installers to complete more jobs.