Center for Transportation and the Environment, an Atlanta-based nonprofit, names Dr. Thomas Fuller, Director of Innovative Battery and Fuel Cell Technologies at the Georgia Tech Research Institute, as Chairman of the Board
FOR IMMEDIATE RELEASE

Contact:
Bruce Burney
Director of Development
The Center for Transportation and the Environment (CTE)
1401 Peachtree Street, Suite 440
Atlanta, GA 30309
Phone: (678) 244-4159
bruce@cte.tv
www.cte.tv
Transportation Group Taps GA Tech Prof as Chairperson
Atlanta, GA - April 3, 2007—The Center for Transportation and the Environment (CTE), an Atlanta-based nonprofit that facilitates the development and demonstration of advanced transportation technologies, today announced that Dr. Thomas Fuller will serve as the organization's chairperson through Spring 2009.
Dr. Fuller, a professor of Chemical Engineering at Georgia Tech, has served on CTE's board of directors since 2004. He is also the Director of the Georgia Tech Research Institute's Center for Innovative Battery and Fuel Cell Technologies, where his research interests focus on electrochemical systems for energy conversion and storage.
"We are very pleased to have Tom take the helm as Chair of CTE," said Dan Raudebaugh, CTE's executive director. "His leadership skills, as well as his expertise in fuel cell and advanced battery technologies, will serve our organization and the community well."
Since its founding in 1993, CTE has managed a portfolio of over $90 million in federal, state, and local cost-shared research, development, and demonstration projects involving more than 450 organizations in the advanced transportation technology field. CTE is also nationally recognized for its expertise in the measurement and evaluation of transportation demand management (TDM) programs and manages the Southern Fuel Cell Coalition in partnership with the Federal Transit Administration. CTE has facilitated and leveraged funding for its projects and initiatives from the U.S. Departments of Defense, Energy, Interior, and Transportation, as well as from the U.S. Army and NASA, among many others.
Dr. Fuller was introduced to the community at a reception following the Spring meeting of CTE's board of directors on March 29, 2007.
Featured Product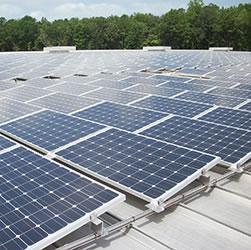 The Power Rail™ Commercial Mounting System is designed with the professional PV solar installer in mind. Both the XD/UD and LD/MD rails feature single tool assembly with the revolutionary patented RAD™ Lock-in-Place bolt for fast and secure module clamping. The high strength marine-grade aluminum rails include an integral wiring channel for securing cables and providing a professional finish.